Six cups of coffee a day keeps the doctor away

A cheap cup of joe

Invest in an international coffee kingpin
I always assumed that I
drink way too much coffee, but I read a story in the Wall
Street Journal at the end of last year that made me change my mind.
The crux of the article:
"…an analysis in the Archives of Internal Medicine
found that people who drink three to four cups of java a day are 25% less
likely to develop Type 2 diabetes than those who drink fewer than two cups. And
a study presented at an American Association for Cancer Research meeting found
that men who drink at least six cups a day have a 60% lower risk of developing
advanced prostate cancer than those who didn't drink any."
Six cups of coffee a
day seems like a lot, I realize, but I drink about that much. I go through a prodigious amount of coffee in
any given week – maybe about one pound. That's 52 pounds a year!
Apparently, I'm not
alone. Coffee is the second most popular
beverage in the world after plain old water. In total, the world drinks 400 billion cups of coffee every year. It's one of the world's most traded
commodities – which made me think: why not find a way to invest in the brown
bean?
So I swung over to the International Coffee Organization (ICO)
website for a look at current and historical coffee futures prices.
(A quick coffee lesson for
the uninitiated: there are dozens of varieties of coffee, but they all fall
into one of two categories: Arabica or Robusta. Arabica coffees are prized for their flavor and complexity. They only grow in very specific regions, and
grow much more slowly than Robusta coffee. Robusta coffee is higher in caffeine, but it's of lower quality and
hence cheaper.)
Click the link below to see a table of coffee prices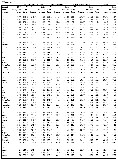 As far as commodities
websites go, the ICO website is extremely organized and efficient. It's obviously the work of people who are at
least as caffeinated as I am. It's easy
to see from the table above that Arabicas of every stripe are currently above
their record highs.
But the Robustas are
cheap!
Looking back at that table, the
price of Robusta fell about 10% per year over the past three years. More notably is that they haven't kept pace
with Arabica prices. You can see that
Robustas almost always sell for between 60%-80% of the price of Arabica. Today, Robusta is selling for less than half
of most Arabica.
Has the pricing for Robusta
changed forever?
I don't think so. The last time Robusta was this cheap, it
nearly doubled in price over the two subsequent years to catch up with
Arabica.
Will it double again? Possibly.
But how can we invest in it?

Fortunately, there's one
publicly traded company that supplies most of the world's Robusta coffee.
It's called Olam International (SGX: OLAM.SI). It's a $5.5 billion company based in Singapore.
Unfortunately, it trades on
the Singapore Stock Exchange (SGX). That
makes it tough to buy shares unless you have a specialized brokerage account with
someone like Interactive Brokers.
Olam is also listed on the
pink sheets with the ticker OLMIF.PK. But like most pink sheets exchanged stocks, the volume is extremely
low. Some days, zero shares are traded. If you buy shares, you might have a hard time
ever selling them so I'd recommend steering clear of this security.
But if you can buy stocks
trading on the SGX, this company could be a great way to benefit from the
likelihood that Robusta prices will rise.
Of course, Olam doesn't just
deal in coffee. It's basically the
General Mills of Southeast Asia – the company produces and sells products in 20
different agricultural categories across 60 countries. It's a great play on a variety of
agricultural commodity products. I kind
of stumbled on this company doing research for coffee, but I'll definitely be
keeping my eye on them as a way to benefit from higher food prices. Of course as always, it's important do do
some fundamental research and pay close attention to the share price
valuation.
Whenever I find a company
like Olam, I run it by Trademaster
Jason Cimpl to see what he thinks. The
man is a human-ticker machine. He can
look at a company's chart and financial information and spit out an
instantaneous summary on whether the company is a good buy, where it might
trade in the next week or month and if there are better investments in the
sector. He's simply the best as far as
I'm concerned.
Starting on Monday you can send Jason tickers of
companies, and he'll do a full charting analysis video — helping you decide
whether there's gains to be had. He'll share more information with me over the
weekend. So for now just start thinking about which stocks you'd like Jason to
evaluate for you and I'll give an update in Monday's newsletter.
Have a great weekend.
Good Investing,
Kevin McElroy
Editor
Resource Prospector