In 2002, the United States Geological Survey (USGS), America's authority on natural gas, (among other stuff you need to dig up, drill, mine or quarry), released a report saying that the Marcellus Shale of New York and Pennsylvania then had 2 trillion cubic feet of natural gas.
Then in July of 2011, the Department of Energy (DOE) upgraded that estimate to more than 400 trillion cubic feet.
But yesterday, the USGS revised its initial estimate up to 84 trillion feet – or down to 84 trillion feet, depending on which estimate you were looking at.
It's kind of confusing. Who should we believe? Well, the Department of Energy answered that question, saying that they will defer to the USGS.
Now, keep in mind, the DOE is a cabinet department of the Executive Branch. The USGS is an offshoot of the Department of the Interior – another cabinet department.
The fact that we have multiple departments measuring natural gas reserves and coming to vastly different should tell you everything you need to know about the Government's ability to waste time and money.
The important thing to consider is the effect this news is likely to have on natural gas prices – as well as the share prices of natural gas firms.
And even with this massive downward revision, there's still plenty of natural gas in the United States. The question is, is it the right time to get bullish on natural gas?
I've been bullish on natural gas for over 2 years now, despite the fact that prices have mostly gone nowhere in that time.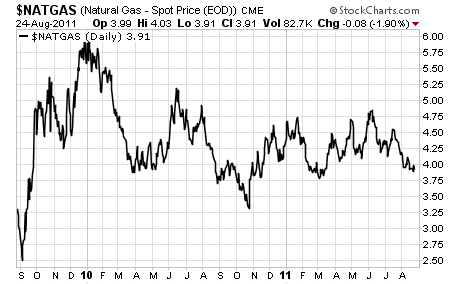 I would expect that this news will give natural gas a short-term punch in the arm. The effect on stock prices, I think, will not be so straightforward.
Companies that have significant exposure to the Marcellus shale formation might take a hit. Other companies with little or no exposure might trade slightly lower as well in sympathy.
In any event, my investment thesis for natural gas is still largely unchanged.
Natural gas is super cheap. $4 per million BTUs is the energy equivalent of 50 cents a gallon for gasoline.
Energy has rarely been cheaper. And the time to buy something is when it's cheap.
Unfortunately, the price of natural gas companies largely reflect this future expectation of higher natural gas prices.
One obvious exception happens to be the largest natural gas producer in the United States. I've written about this company extensively before, on many occasions.
And it's kind of a boring company, I realize.
But today you can buy this company for less than 10 times trailing earnings. It has upside leverage to higher natural gas prices – and oil prices.
And it pays a modest 2.6% dividend with a 27 year history of increasing dividends on an annual basis.
I'm talking about Exxon-Mobil (NYSE: XOM).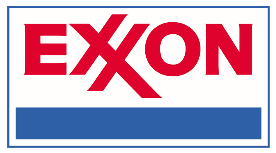 If you believe, as I do, that natural gas prices are likely to rise, then you could do much worse than to buy Exxon shares now.
As always, do your own due diligence, and have a plan for your investment, but Exxon is one of those companies you almost can't go wrong buying more of.