Out of all the commodities I write about, natural gas has been the most disappointing.
Natgas prices suffer the double-yolk of a sluggish economy (which diminishes demand) and increased production thanks to advanced drilling techniques.
So while most commodities have at least doubled in price over the last 3-5 years – natural gas prices are approaching two year lows.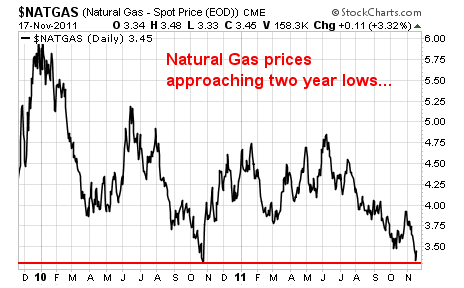 Natural gas prices just don't get much lower than $3.50 per thousand cubic feet. So buying companies with leverage to higher natural gas prices right now is a relatively low-risk move.
Right now, I'm just not very enthusiastic about many natural gas companies. The bear market in natural gas prices has not been kind to the balance sheets of most companies in the sector.
Many of them have large debt loads. So I've focused my efforts on finding natural gas companies with limited debt, and ones that are actually profitable now.
The idea is, if they aren't saddled with debt, they won't get creamed by higher borrowing costs. And if they're earnings-positive now, they'll be even more profitable when natural gas prices rebound.
Right now, one company that fits these parameters is Devon Energy (NYSE: DVN).
They have very little debt. They have producing wells throughout North America – and they notably don't have any access to offshore natural gas production.
They actually sold off all of their offshore properties about a month before the Deepwater Horizon disaster.
Pretty nice coincidence, and that sale allowed them to pay off debt, and focus their efforts onshore.
As a bonus, they're cheap – selling for less than 6 times earnings, and they pay a modest dividend of about 1%.
If you have no exposure to natural gas, or you're looking for more, this company should be at the top of your list.
I'd buy under $70 a share (a level of short-term resistance) and average in.
Once natural gas prices rebound, I think Devon will be leading the pack.