I'm not an options expert. But my colleague Andy Crowder is. And he says it's time to sell silver now.
If you've ever read one of Andy's articles or listened to one of his webinars, you know that Andy trades options based on probabilities. If there's an 80% probability that a stock will fall, Andy will buy a put. If there's an 80% probability that a stock will rise, he will buy a call.
But I'll leave the probability talk to Andy. What caught my attention is the indicator Andy uses to determine probabilities.
It's called the Relative Strength Index – or RSI, to the options nerd. The RSI measures how overbought or oversold a stock or ETF is. Anything reading above 80 means the asset is overbought. Anything below 20 means the asset is oversold.
And right now, silver is severely overbought.
Check out the chart below: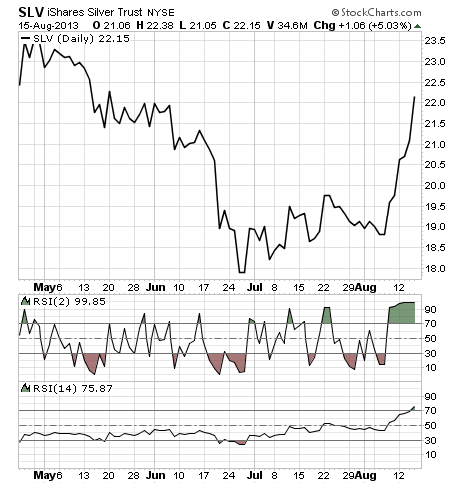 The iShares Silver Trust (SLV), which tracks the price of silver, has an RSI reading of 99.85. That means it's about as overbought as you can get.
Silver prices have risen sharply in recent weeks. Since the first week of August, the price of silver has shot up 18% to $23 an ounce – its highest level since mid-May. That's still well off its $43 peak in late 2011. But given the metal's recent slide, $23 is a considerable bounce-back.
According to the RSI, it's too much of a bounce-back. A short-term sell-off in silver is likely coming. Consider yourself warned.
If you missed my latest webinar…
I've posted a free video replay of my 60+ minute presentation, "3 Strategies for Producing Safe, Steady Income Using SPY Weekly Options.". Follow the link below to watch and you'll discover how you can consistently steady income… even in flat markets… weeklys. And you'll receive free action-specific trades you can execute immediately — for gains you can earn in as little as 8 days! Click here to watch this video replay now.