I knew this day would come. For purely business reasons, my bosses have decided to fold The Resource Prospector. You'll receive your last issue this Friday, February 1, 2013.
In my mind, the end of the "RP" (as we call it here in the office) in no way signifies the end of the commodity bull run.
In fact, I'd argue just the opposite.
It's true, interest in commodities has waned along with many commodity prices – which is why we're folding this letter: the audience is shrinking. But all of the underlying causes for the bull market in commodities are intact. As I've pointed out many times, long, sustained corrections are the hallmark of bull markets – not bear markets.
Right now, we're smack in the middle of a big price correction in almost every commodity.
Take a look at the iPath DJ-UBS Commodity Index ETF (NYSE: DJP) over the past few years: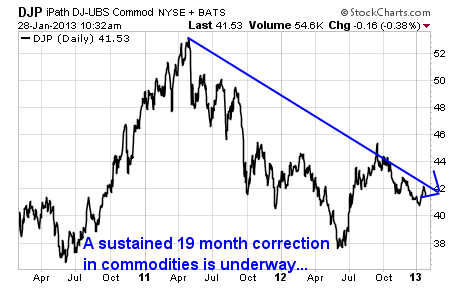 That's what a bull market correction looks like.
And it explains why we've seen interest in commodities dry up for the most part. At the height of my circulation, the RP reached over 70,000 readers. Today, that number is closer to 35,000, and I suspect many of those "readers" stopped opening their emails a long time ago…
In fact, I bet if you charted the wax and wane of my RP numbers, the chart would line up almost exactly with a commodity index like the one above.
Right now, almost no one is interested in commodities. Here at Wyatt Research, we've seen this trend play out in our marketing, in our advertising, in our Google campaigns – across the board.
It used to be that almost all of the readers we had came from the commodity space. Today, everyone seems interested in income and dividends.
I know it's cold comfort when I tell you that the bull market is likely to continue stronger than ever at "some point" in the future.
If you've bought commodity investments over the past two years, you've likely lost money – and that kind of bad taste in your mouth makes it tough to hang in there. I know.
It's not a good feeling to lose money, and it's not a good feeling to see this letter fold during the depths of a correction. It feels like quitting.
But you should know that I'm not quitting. I'm still a commodity bull. I still own physical gold and silver, and I'm not selling anytime soon.
And who knows: maybe in six months or a year, my bosses will ask me to resume writing The Resource Prospector if commodities take off again.
In any event, this week I'm going to devote all my efforts to writing about the four biggest and best commodity ideas for the future. I hope you'll tune in.