Tesla Motors (NASDAQ: TSLA) hurdled a major resistance level last week.
After 15 months, the shares finally drove above the resistance zone near the $35 level (blue arrows below). Volume was above average during this breakout, suggesting that buyers are extra-interested in owning the shares. This is a major shift in sentiment.
Electric car manufacturers came under scrutiny during the Presidential election in November. TSLA felt the pressure too, and declined 18% from its September high near $32.80.
However – and as noted in a ChartWatch article – Tesla is far from what I'd consider a bad investment. In fact, I've been impressed by the company's progress and its new Model S car.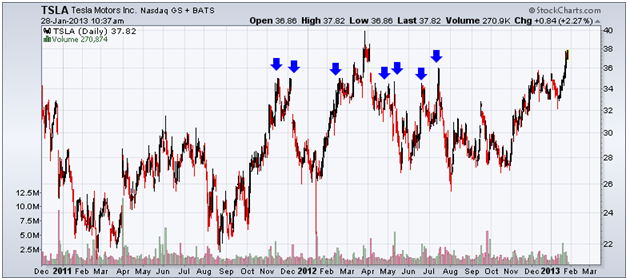 This chart shows the price of TSLA shares along with a previous resistance level to monitor.

CEO Elon Musk agrees. He often dismisses concerns over the electric car manufacturer's unprofitability, too. In fact, Musk blamed the poor financials on supply issues, arguing that the company could be selling significantly more electric cars than they produce.
Tesla appears to have addressed its supply issue. The company doubled its production from 200 to 400 cars per week. Management believes this production capacity will result in net positive cash flow later this year.
Investors seem to be buying this optimism, too, as buyers were able to overcome the $35 resistance level this month on high volume. Though TSLA will likely encounter some selling near $38, the stock appears ready to reach new highs this year.
I expect TSLA to hit $46 – a 31% increase – as it rides the positive momentum from its expanded production facilities, the hot demand for the Model S and improving financials.
Equities mentioned in this article: TSLA
Positions held in companies mentioned above: