Bank of America (NYSE: BAC) just revealed…
Their top 20 picks to capitalize on the $900 billion AI boom.
Let's discuss if they're the right investment for you…
Or if you will be better off with my top 3 hidden AI stocks to BUY now.
Click here ASAP for urgent details.
Because I've uncovered a secret backdoor that could help you turn $5k into $43,700.
Now, it's no secret that AI is taking the world by storm.
In fact, it's driving companies AND investors into a BUYING FRENZY.
That's why Bank of America (BofA) predicts the global AI market will grow by 19% per year to be worth $900 billion by 2026.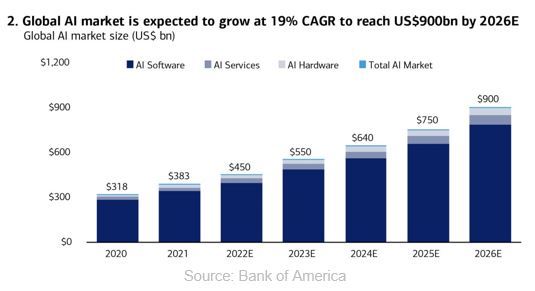 That's DOUBLE the market's size in 2022!
But who will be the winners of this $900 billion AI boom?
According to BofA, they will be:
Adobe (ADBE)
Advantest (ADTTF)
Alchip (ALCPF)
Alphabet (GOOG)
Appier Group (APPIF)
Apple (AAPL)
Arista Networks (ANET)
ASML Holding (ASMLF)
Baidu.com (BIDU)
HOYA (HOCPF)
Meta Platforms (META)
Microsoft (MSFT)
NICE Systems (NICE)
Nvidia (NVDA)
Palantir (PLTR)
Qi An Xin (SHA:688561)
RELX (RLXXF)
SAP (SAPGF)
Shutterstock (SSTK)
TSMC (TSM)
And based on their price targets…
These 20 stocks could make you a decent gain in the next 12 months.
However, there's a hidden AI profit play that could make much more.
Go here now for urgent details.
Because this is THE biggest transformational tech trend of the last 20 years.
As Bill Gates just said, it will "change our world."
Banking giant UBS says the AI market could be worth a trillion dollars.
And some of the biggest names in tech are making massive investments in AI.
Like Microsoft's $10 billion investment in OpenAI, the startup behind ChatGPT.
This major investment is also sparking a NEW wave of investments in AI…
And it's offering a TRULY incredible opportunity to cash in for those who jump into the right trades, RIGHT NOW.
That's why I'm sharing a free report which reveals urgent details about:
The massive artificial intelligence tsunami caused by Chat GPT – and why it's sending Google and Facebook scrambling.
Why Elon Musk, Jeff Bezos and Bill Gates are betting BILLIONS on this groundbreaking technology.
How AI will create a new $1 trillion market by disrupting millions of jobs.
How to avoid FAKE AI stocks that are scams, frauds and will never hand you a profit.
The top 3 stocks to BUY now. These stocks could reap immense profits and deliver life-changing gains to early investors including YOU.
Frankly, this is only the 1st inning of this brand-new tech boom.
So it's as early stage as it gets.
To discover how you could make 874% with my top 3 hidden AI stocks…