Americans are pulling savings from regional banks.
Many are rushing to deposit cash in the new Apple (NASDAQ: AAPL) high-yield savings account.
The 4.15% interest rate is 10-times the national savings account average. In just 4-days Apple opened 240,000 savings accounts. Plus, total deposits quickly exceeded $1 billion.
Four percent in a federally insured account is amazing.
However, regular Americans have been able to earn as much as 45% income in just 1 day.
Simply click here to discover how to get started.
Apple is pushing into financial services – expanding its relationship with trusting and devoted customers.
The company already launched a credit card in 2019. The new savings account is available to Apple credit card customers who own an iPhone.
Apple partnered up with Goldman Sachs (NYSE: GS) to make this available to customers. Accounts are capped at $250,0000 – assuring that all deposits will be insured by the federal government.
"The feedback for both Apple Pay Later and the savings products have both been really good. And we think both of them help customers live a better or healthier financial life. And so we're very excited about the first days of both of them," explained CEO Tim Cook on the latest Apple earnings call.
Access your Income for Life Blueprint. Inside you'll discover the simple way you could collect 1-day payouts of $2,860, $4,120 and even $4,501 from America's most profitable companies. Click here for your free book and instant access.
The timing couldn't be better…
The failure of Silicon Valley Bank, Signature Bank and First Republic have sent shock waves through the U.S. financial system.
In fact, Americans pulled $120 billion from small banks the week after Silicon Valley went belly up. And they've continued moving money into safer places – including big banks and Apple's savings account.
With customers fleeing smaller banks – their stocks are falling too.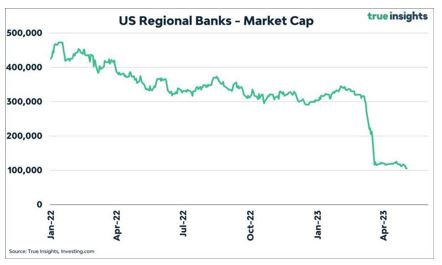 The total market value of all U.S. regional banks was $475 billion in January. Yet by early May the value had fallen to just $100 billion – marking a 78% decline.
Meanwhile, the drop in bank stock prices creates even more concerns for depositors. It's a negative feedback loop. Clients yank deposits from banks. The share price falls. More clients see the falling stock price and continue to move their cash elsewhere.
So, what's the best place to invest today?
Simply click here asap to discover 37 secrets to boost your income today.