It's no secret that AI is shaking up a lot of industries.
But did you know that a new type of AI is disrupting the trading industry forever?
Go here now for urgent details – and discover how it's giving traders A LOT of opportunities to make double-digit gains in just a few short days.
Now, as the largest asset manager in the world…
BlackRock sees the MASSIVE potential AI has for their clients' returns.
In fact, the firm just launched BlackRock AI Labs to "improve client outcomes."
You're probably familiar with ChatGPT.
Well, similar to how ChatGPT uses vast amounts of data to create text outputs and responses that are even capable of acing the bar exam…
A brand-new type of AI is now being used to make better investment decisions.
That's why BlackRock's AI tool is designed to maximize accuracy and precision across a WIDE range of data sources – and uncover new investment and trading insights.
BlackRock is also working on an "earnings call model."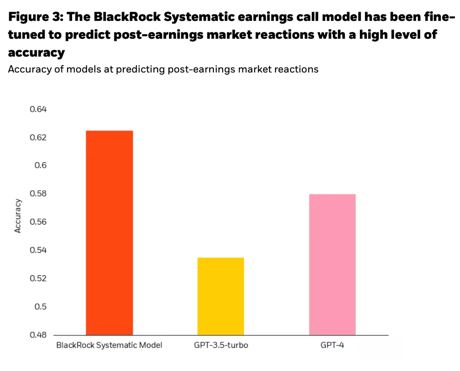 And the goal is simple…
To predict where a stock's share price will trade following a conference call with investors.
Meanwhile, the firm is developing dozens of new AI tools to help its clients beat the market.
Problem is… they'll NEVER make this available to folks like you.
That's why I've spent the last year developing a new AI Trading Agent.
Go here to see how it's finding 85% winning trades.
While Wall Street insiders are embracing new AI trading tools…
Regular investors who use similar tools could also have the exact same edge.
After all, these tools have the power to process MILLIONS of data points in a way that humans can't – and forecast stock moves with at least 85% accuracy.
In fact, my new AI Trading Agent does exactly that.
It's making money on 85% of trades – and it's locking in huge gains of…
32.9% on Intel in 14 days
46.7% on Autodesk in 17 days
57.4% on Adobe in 24 days
60.6% on Home Depot in 12 days
72.1% on Teleflex in 6 days
81.0% on L3Harris in 4 days
125.0% on RLI in 24 days
It's sort of like having your own "AI trading assistant."
It works 24/7…
It analyzes and predicts trends with incredible accuracy…
And it gives you winning trades left and right.
Want to see how it could make you 125% in just 24 days?
Simply go here now for urgent details.
Yours in Wealth,
Ian Wyatt