Tesla seems to have added code on its website to accept Bitcoin payments again.
The move comes after 2 years of Tesla trying to accept the crypto as payment.
And it could be an important part of Elon Musk's new Master Plan for the company.
Go here to discover how it could make you +1,766%.
Take a look at this screenshot: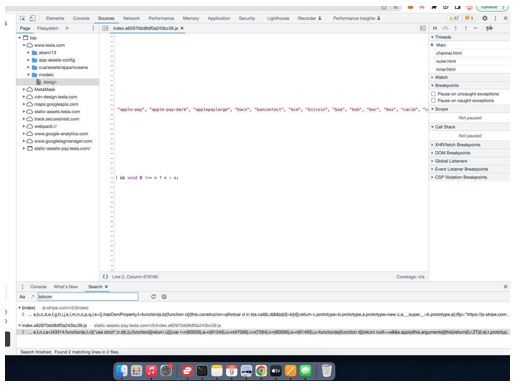 Internet sleuths published it this week on Twitter…
… and it reveals how Tesla (NASDAQ: TSLA) appears to be secretly adding code on its website to accept Bitcoin (BTC) payments.
You might remember how the company tried to do so in 2021.
But then decided against it a few days after because of "concerns over the energy needs of the Bitcoin network."
Well, the option to pay with BTC is all over the code on TSLA's ordering page: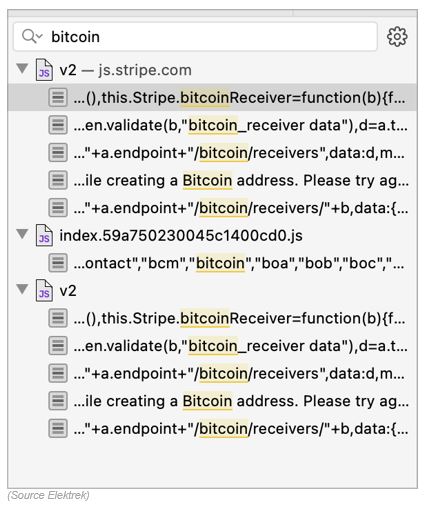 Frankly, it wouldn't surprise me if this is part of Elon Musk's new Master Plan 3.0.
But what would surprise me even LESS is that his new Master Plan helps Tesla to continue to be the #1 leader in the EV race – just as his two previous Master Plans did.
Most importantly for investors…
This new Master Plan is creating a brand-new opportunity to make +1,766% – no matter what happens to Tesla stock.
That's because there's a group of undiscovered stocks that could surge dramatically very soon BECAUSE of Musk's new Master Plan.
See, Tesla wants to produce 20 million EVs per year…
And one thing that Tesla needs is batteries to reach that goal.
That's why the automaker is already sparking a massive battery metal "land grab"…
… and why every automaker including Tesla, Ford, General Motors, Volkswagen and Toyota are rushing to secure critical partnerships to produce millions of batteries.
They're signing deals with undiscovered stocks.
And the size of these deals is massive:
$186 million deal to acquire 80,000 pounds of cobalt per year
$1.7 billion agreement to buy nickel from a midwestern mining stock
$5.1 billion agreement to buy lithium from an Australian company
Dozens of new deals could be announced in the coming weeks.
And once they're announced – shares can quickly jump 132%… 548%… 614%.
In fact, that's how much some stocks have jumped after an announcement.
As always, investors who act BEFORE these deals hit the news are the ones who have the chance of the biggest gains. The question is…
What's the NEXT stock inking a billion-dollar deal?