EV sales are booming…
With explosive growth of 28% in China… 48% in the United States…and 88% in the Netherlands.
Who are the biggest winners?
It's NOT GM… Ford… or even Toyota. Instead, it's Tesla (NASDAQ: TSLA) and 5 secret suppliers.
Go here ASAP for names and tickers.
Global electric vehicle (EV) sales are hitting critical mass right now.
Here's a chart that shows the year-over-year statistics.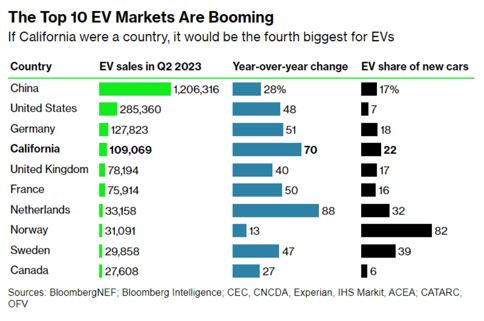 EV sales in the U.S. were up 48% between April and June 2023. That's on par with the year-over-growth rates from Europe.
The really important thing to notice is the overall percentage of all new car sales that are EVs. In Europe's biggest countries, the percentage of new car sales that are EVs runs between 16% and 18%. It's about the same as the EV market share in China – 17%.
China is by far the global leader for EVs – tracking toward 5 million units sold in 2023. Approximately 1 million of the EVs sold in China this year will come from Tesla. That's a pretty impressive number.
It may come as a bit of a surprise to see just how far behind the curve the U.S. is, at least on a market share basis.
Sure, 285,360 EV sold in the U.S. during the second quarter makes it the second biggest EV market in the world.
But that meager 7% market share is far from impressive. It would be easy look at that 7% EV market share and think, yes EVs are a niche product that have a long way to go before hitting real mainstream appeal.
OR – you could look at that 7% and say, wow, there's a lot of upside for EV sales in the U.S.
Elon Musk Reveals NEW Master Plan 3.0. Could this make Tesla bigger than Apple? ARK's Cathie Wood says TSLA shares will be trading at $2,000 by 2027 – giving TSLA a $5.5 trillion market cap. And that would make TSLA bigger than Apple.
Go here to watch Musk's latest master plan – it's your shot at 614% profits.
So, which is it? Are EVs still a niche market in the U.S.? Or is there reason to think the sales numbers will improve?
The trend is higher. Let's have a look at EV sales from the just-ended third quarter and see what that says about the future.
Accelerating Growth for EV Sales
Third quarter EV sales numbers for the U.S. were released earlier this week. Between July and September, 313,086 EVs were sold in the U.S. The U.S. is on pace to see EV sales hit 1 million for 2023.
In terms of market share, EVs accounted for 7.9% of all cars sold in Q3. That's 13% sequential growth from last quarter. If this pace keeps up over the next year, the market share for EV sales in the U.S. for 2024 will have darn near doubled.
EV sales growth won't necessarily move in a straight line. There are plenty of threats to EV sales, and auto sales in general. The UAW strike is starting to bite. Even though high interest rates haven't been much of a factor to this point, borrowing costs could become a factor. And auto sales will fall if the U.S. does indeed tip into a recession.
There's no denying that the U.S. – and the world – is at the very start of the EV boom.
Some companies will benefit more than others…
For the incumbent automakers, like Ford (NYSE: F) and GM (NYSE: GM), EV sales are a zero-sum game. They'll sell a lot of EVs, but it will come at the expense of internal combustion engine (ICE) cars. They may enjoy slightly better margins, but total volumes are not likely to see substantial gains…
In fact, Ford and GM are already losing market share to Tesla. Tesla's share of the U.S. EV market is a dominant 50%.
Now, it's true that Tesla's market share was even better at the start of 2023. Its market share was amazing 62% the first quarter. Some people will tell you it's a bad sign that Tesla's share of the U.S. market has fallen so far, so fast…
But the fact is – much of the decline for Tesla's market share can be chalked up to lower production volumes due factory closures for upgrades. That's true for its China sales as well…
There's reason to think that Tesla will come storming back in the very near future. That's because it's much anticipated Cybertruck is about to make its debut.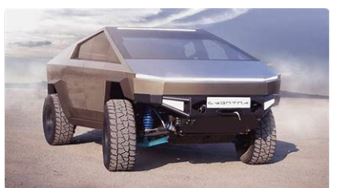 Tesla started production on its newest vehicle back in August at its Texas factory. And there have been reported sightings of Cybertrucks being shipped on the car-carrier trucks. One of the first Cybertrucks off the production line was just bought at auction for a reported $400,000, which tells you that there is interest from consumers.
An official release date for the Cybertruck hasn't been announced yet. But it could literally any day now…
There are over 1.9 million pre-orders for Tesla's Cybertruck. So, when the release date is finally announced, you can bet there will be a lot of attention suddenly directed at Tesla and its stock price.
Plus, Tesla's secret EV partners could be the biggest winners.
That's because these tiny stocks are overlooked and undiscovered today.
Best,
Brit Ryle