How Elon Musk Destroyed Ford and GM: Tesla EV sales are soaring. And TSLA stock is +129% this year. Discover how Tesla is destroying Detroit – and putting GM and Ford out of business. Go here asap to find out the winners and losers.
America's big three automakers could be going out of business.
These giants have failed to successfully adopt to the EV revolution. And American's don't want to buy their cars.
Plus, union labor is now demanding a 40% raise – or a 32-hour workweek.
General Motors (NYSE: GM), Ford (NYSE: F) and Stellantis (NYSE: STLA) will go bankrupt during the next recession. And either they'll either go out of business – or get bailed out by Uncle Sam.
Who wins?
Tesla (NASDAQ: TSLA) and these undiscovered battery metal partners.
Go here for the full story and urgent details.
Big 3 Automaker Bankruptcy Prediction
The stock market says that these big automakers will go out of business.
You simply need to look at the price-to-earnings multiple on these stocks.
General Motors: 4x earnings
Ford: 6x earnings
Stellantis: 3x earnings
Great companies don't typically trade with P/E multiples in the low single digits.
New car sales drop significantly during a recession. Consumers simply decide to postpone the big purchase. And they continue driving an older car for a little longer.
In 2020 new car sales dropped 15%. In the 2008 recession sales plunged 40%. A drop of this magnitude would be the nail in the coffin for GM, Ford and Stellantis.
Meanwhile, Tesla will thrive and its secret partners will reap windfall profits (click here for the top stocks to buy).
The share prices for GM, Ford and Stellantis suggest that these businesses will be GONE in a few years.
Why? Because these companies are losing billions on their EV initiatives.
For example, Ford says they'll lose $4.5 billion on EVs this year. That's an increase from a projected $3 billion loss earlier this year.
Detroit's big 3 automakers are losing money on every EV they sell.
Plus, higher labor costs will make things even worse.
Meanwhile, Tesla is growing sales and profits by over 20% per year.
The company is slashing prices on all models – especially their more expensive EVs.
Tesla Steals Market Share with Lower Prices
Watch Elon Musk's Master Plan 3.0 – Click Here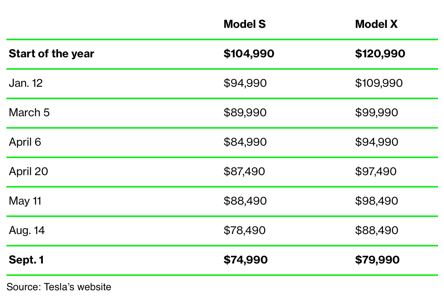 People actually want to buy EVs from Tesla.
Elon Musk is willing to lower prices – and continue to take market share. He realizes that higher interest rates make cars less affordable.
So, Tesla is cutting prices in order to maintain affordability of its EVs. And it's working – with production up 57% in the first 6-months of the year.
Meanwhile, Ford's CEO complains because consumers say its cars are too expensive. Instead of lowering the cost – Ford is simply cutting its production.
It's just the latest sign that Tesla's dominance is here to stay.
Want to know how this plays out – and how to profit in the next year?
Go here to watch Elon Musk's Master Plan 3.0.
Yours in Wealth,
Ian Wyatt