Elon Musk is BULLISH on Tesla (NASDAQ: TSLA) stock…
And this new Artificial Intelligence technology is the reason why (click here for details).
During the quarterly conference call last week – Musk shared his huge share price target for TSLA stock.
Tesla is getting into Artificial Intelligence in a big way – investing over $1 billion in a new supercomputer called Dojo.
Go here for urgent details on my #1 AI stock to buy now – 874% profit potential.
Last week I tuned into the full Tesla (NASDAQ: TSLA) earnings call.
I know most folks don't tune into corporate earnings calls. So, I'd like to share a few of the most important comments from Tesla CEO Elon Musk. Below you'll see the highlights – with quotes directly from Elon.

Tesla Full Self Driving (FSD) is ramping up very quickly – and will be a huge breakthrough. The chart below shows the growth thus far – showing total miles driven.
"Over 300 million miles have been driven using FSD beta. That 300 million mile number is going to seem small very quickly. It'll soon be billions of miles, then tens of billions of miles. And FSD will go from being as good as a human to then being vastly better than a human. We see a clear path to full self-driving being 10 times safer than the average human driver."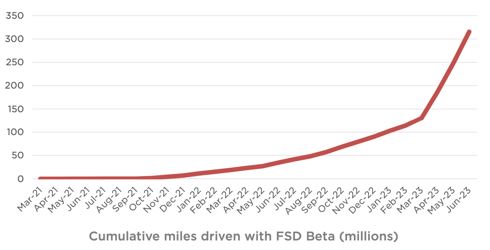 Tesla is launching a supercomputer called Dojo in August. It'll be used to help process data from Full Self Driving.
"With respect to Autopilot and Dojo, in order to build autonomy, we also need to train our neural net with data from millions of vehicles.
Tesla has more vehicles on the road that are collecting this data than all of the companies combined by, I think, maybe even an order of magnitude. So, I think we might have 90% of all — or a very big number. So, the success in AI endeavors is a function of talent, sort of unique data and computing resources. And we have outstanding capabilities in all three arenas."

Tesla is opening its EV charging technology – and Supercharger network – to Ford, GM and Mercedes.
"We're deeply honored that Ford, GM, Mercedes and many other OEMs have signed up to use our connector and gain access to our charging network. We strongly believe in helping other car companies to accelerate the EV revolution and just trying to do the right thing in general."
Tesla is exploring licensing its hardware and self-driving software to other auto makers. This means that Tesla software and hardware could be used on non-Tesla EVs.
"We are very open to licensing our full self-driving software and hardware to other car companies. And we are already in discussions with — early discussions with major OEM about using Tesla FSD. So, we're not trying to keep this to ourselves. We're more than happy to license it to others."
Elon says Tesla stock could jump 500% to 1,000% from here:
"I have very high confidence in the long-term value of Tesla. Like I see it — I really see a path to a 10x — call it a 5x increase in the value of the company, maybe a 10x. And — but where things go along the way, the trials and tribulations and the mood of the markets, one cannot predict. And so, the old adage of buy and hold is right.
I strongly believe Tesla is a big long-term investment. And don't sweat when things go up and down. In fact, if the market panics, buy; if the market is a little too exuberant, sell at the time."
How to invest like a pro – according to Elon Musk:
"For an investment advice, I'd say like identifying a company as products you love. See if they — does it seem like they'll continue to make good products or great products? Buy that stock and hold it. That's it. You'll win.
The reason companies exist is to make goods and services, ideally great goods and services. They don't exist for any other reason. They shouldn't. So, that's why you should buy stock of a company that makes good products and has a great future pipeline. It's common sense, actually."
Now, we don't own TSLA stock in the Alpha Targets portfolio. However, these positive developments for Tesla confirm my view that the EV growth opportunity remains in the early innings.
The NEW Artificial Intelligence Profit Wave
You could simply buy MSFT or NVDA.
However, these stocks are already up 50% and 200% this year. So, you've likely missed out on the big gains.
Yet a small group of undiscovered tech stocks are now ready to takeoff. These "pure-play" AI stocks are 100% focused on this technological breakthrough.
My research suggests that the gains could be staggering – with early investors banking as much as 874%.
Go here asap to get in – before these stocks take off.
Yours in Wealth,
Ian Wyatt