It's official.
Tesla has deployed a new Megacharger for its electric truck in California…
… and is planning nine more electric semitruck charging stations.
Could this be the next step of Elon Musk's Master Plan 3.0?
Go here now for urgent details.
For the past few weeks…
Tesla's connector—also known as the North American Charging Standard (NACS)—has been all over the news.
That's because FIVE automakers announced its adoption for their EVs.
But the automaker is now deploying another connector: The Megacharger.
The Megacharger is for Tesla's electric truck (called the Tesla Semi).
Tesla started production of the Semi last year, but only in low volume for a few customers and its own operations.
Despite this…
Tesla has now deployed a MOBILE Megacharger at its Supercharger in Baker, California. Twitter user RodneyaKent took a few pics of it: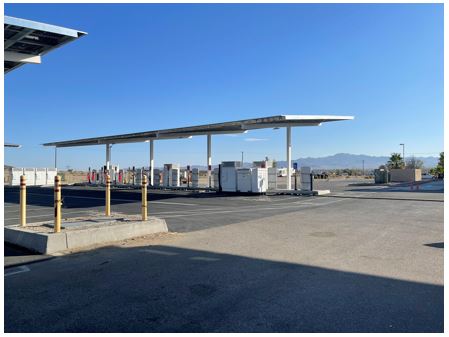 Tesla is also planning on building nine PERMANENT Megachargers between California and Texas – according to Bloomberg.
And it's asking for $97 million in federal funding to build what would be the first network of electric truck charging stations in the US.
The automaker plans to contribute $24 million to the project.
And frankly, it wouldn't surprise me if this is all part of Elon Musk's new Master Plan 3.0.
But what would surprise me even LESS is that his new Master Plan helps Tesla to continue to be the #1 leader in the EV race – just as his two previous Master Plans did.
Most importantly for investors…
This new Master Plan is creating a brand-new opportunity to make +1,766% – no matter what happens to Tesla stock.
That's because there's a group of undiscovered stocks that could surge dramatically very soon BECAUSE of Musk's new Master Plan.
See, Tesla doesn't only want to change the game in the trucking industry…
… but in the new EV industry as a whole.
To do so, Tesla wants to produce 20 million EVs per year…
And one thing that it needs is batteries to reach that goal.
That's why the automaker is already sparking a massive battery metal "land grab"…
… and why every automaker including Tesla, Ford, General Motors, Volkswagen and Toyota are rushing to secure critical partnerships to produce millions of batteries.
They're signing deals with undiscovered stocks.
And the size of these deals is massive:
$186 million deal to acquire 80,000 pounds of cobalt per year
$1.7 billion agreement to buy nickel from a midwestern mining stock
$5.1 billion agreement to buy lithium from an Australian company
Dozens of new deals could be announced in the coming weeks.
And once they're announced – shares can quickly jump 132%… 548%… 614%.
In fact, that's how much some stocks have jumped after an announcement.
As always, investors who act BEFORE these deals hit the news are the ones who have the chance of the biggest gains. The question is…
What's the NEXT stock inking a billion-dollar deal?
Click here ASAP for my top 5 picks.
Yours in Wealth,
Ian Wyatt