Icahn Enterprises (NYSE: IEP) currently boasts a hefty 25% dividend.
However, this dividend may be at risk, as Icahn has been incurring losses for several years.
It is essential to steer clear of such risky dividend stocks, particularly in a volatile market.
That's why you must grab a copy of my book – titled Unlimited Income. Inside you'll discover 37 top income strategies for 2023.
Click here to secure your free copy.
Carl Icahn cemented his reputation in the 1980s as a corporate raider.
The billionaire hedge fund manager has yielded annual returns of 31% since 1968 and is widely regarded as one of the greatest investors of all time.
However, the tide turned on May 1st when Hindenburg Research published a critical report on Icahn and his publicly traded hedge fund, Icahn Enterprises (NYSE: IEP):
Icahn Enterprises: The Corporate Raider Throwing Stones From His Own Glass House
Numerous investors have been drawn to IEP stock, enticed by Icahn's esteemed name and solid reputation.
One of IEP stock's most appealing features has been its substantial dividend. IEP currently pays an $8.00 dividend in quarterly installments.
This amounts to a 25% dividend.
Here's the catch…
Most corporations distribute dividends from their profits. However, Icahn Enterprises has consistently lost money.
Last year, Icahn reported a net loss of $183 million. The previous year witnessed losses of $518 million, and in 2020, a staggering $1.6 billion. Most businesses would reduce or scrap their dividends after witnessing $3.5 billion in losses over four years.
Nevertheless, Icahn has persisted in issuing dividend checks despite these losses.
Public tax filings shed light on the situation…
Icahn lacks net income to fund its dividend. Instead of reducing its dividend, the company is merely redistributing cash to its investors.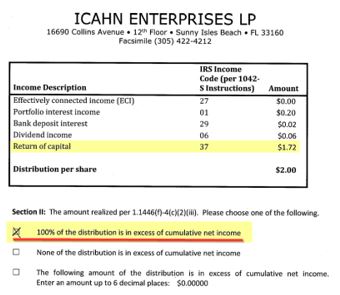 The bottom line is that Icahn is hemorrhaging money. The company's dividend is financed through issuing stock, accruing debt, and liquidating investments.
This is just one of many concerns with Icahn Enterprises highlighted in the Hindenburg report.
Federal prosecutors apparently read the report as well and launched an investigation into Carl Icahn on May 3.
Icahn's case presents a valuable lesson for income investors. Pursuing stocks with enormous dividends always carries the risk of a setback.
That's why I'm eager to expedite a copy of my recently released book:
Unlimited Income: Replace Your Salary and Thrive In Retirement
Inside, you'll uncover 37 safe and steady methods to augment your income without resorting to risky stocks.