Warren Buffett loves electric vehicles – quietly buying $8 billion of the #1 Chinese EV automaker.
He also has a ton of respect for Elon Musk – and Tesla. At this year's annual meeting he explained…
"Elon is a brilliant, brilliant guy… He likes taking on the impossible job and doing it."
My research suggest Berkshire could be preparing for a huge investment – to profit from Elon Musk's Secret Master Plan.
Go here asap – the #1 stock could jump 614%.
Today I want to share a key lesson from Warren Buffett's portfolio.
Let Your Winners Ride
Institutional investors including Berkshire Hathaway are required to report their stock holdings every 90 days – in a SEC filing known as the 13F.
This lets everyone see exactly what they bought and sold in the last quarter.
The following visualization shows the current Berkshire Portfolio and major holdings.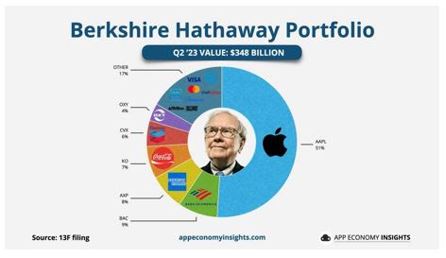 Typically, a portfolio manager is constantly rebalancing their portfolio. 
This means selling winners and limiting the position size. A typical mutual fund might try to keep positions at 1 – 2%. And perhaps a favorite position could grow to 5% or 10% of a portfolio.
Buffett has never managed his portfolio in this way.
He prefers to continue holding his favorite stocks – rather than selling them to lock-in gains. And he's on the record saying that his favorite holding period is forever.
Berkshire's portfolio continues to own several "forever stocks." And these are stocks that he won't sell – regardless of their size in the portfolio.
SHOCKING Tesla Master Plan 3.0: Elon Musk just released his 10+ year plan for Tesla, SpaceX and battery domination. It could hold the secret to your next 132%… 548%… or even 614% winner. Go here to watch now (it's free).
These include Apple, American Express (NYSE: AXP) and Coca-Cola (NYSE: KO).
The real lesson is to let your winner's ride.
My most successful investments – and biggest holdings – are always a result of staying out of my own way. There's a strong inclination to "lock in profits" when a stock rises. However, that often means limiting your long-term upside.
My biggest winners have always been stocks that I bought and held for the long-term. As these winners grow – they become a larger and larger percentage of my portfolio.
In my real-money portfolio – these are my top 5 positions. And each of them is much larger than you'd typically expect if I was constantly rebalancing the portfolio every year.
Apple 19.9% of portfolio – 1,167% profits
Alphabet 8.8% of portfolio – 802% profits
Netflix 7.8% of portfolio – 4,132% profits
Mastercard 7.3% of portfolio – 1,811% profits
Berkshire Hathaway 6.1% of portfolio – 226% profits
Frankly, this type of concentrated portfolio is the key to building long term wealth. Because if you're always selling your biggest winders – you're giving away a big piece of the future gains.
So, what's the best big opportunity?
 
Frankly, I'm betting on Elon Musk and his new Secret Master Plan 3.0.
I'd be willing to bet that Warren Buffett is looking to add to his existing $8 billion EV stake. And he won't be buying TSLA at an incredibly high valuation.
Instead, I'd bet he's considering going "all-in" on these secret suppliers that will be critical for Tesla's success.
Go here to watch this ASAP for details.
Yours in Wealth,
Ian Wyatt