"Housing in the U.S. has turned a corner…and our subsidiaries are already seeing double-digit increases in their businesses." Warren Buffett, October 24, 2012
Increasing your exposure to North American real estate remains one of the best investments you can make right now.
Sales are up 27% this year…
New homes are being constructed at the fastest rate in more than four years…
And home values in nearly every major city continue to rise (prices are currently at their highest in two years)…
Record low interest rates coupled with depressed real estate prices (by historical standards) mean that housing affordability is at a record high.
Interest rates just can't seem to rise, as this chart of mortgage rates since the 1970s shows.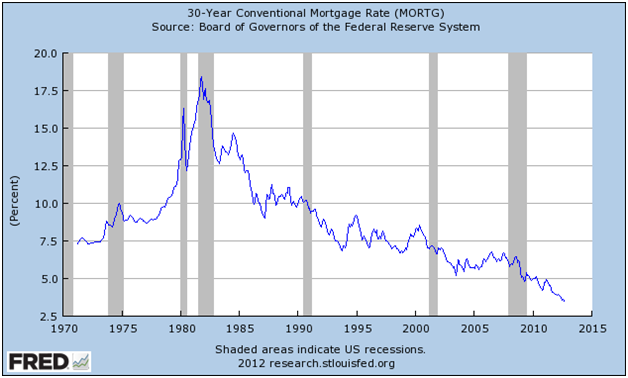 This stabilization in home values is not only a boon to home builders … it's supporting gains in consumer confidence and spending that are benefitting many other companies in the sector.
This is all good news. But as I've written in this space before, by no means is this a bull market yet.
It's just an improving one.
While data shows things are getting better, sales of existing single-family homes and single-family home starts remain well below historical figures dating back before 2000.
So what we have here is still a soft market, but one that likely has the worst behind it and is going to get better – possibly much, much better. When it does, the right real estate investments you make now should pay off.
In fact, the Case-Schiller Home Price Index projects 7% growth in home values over the next three years!
My favorite way to play this improving market is through suppliers to the construction industry. These are the companies that supply builders on every scale — commercial and residential — with essential construction materials.
Everything from lumber and expensive hardwoods to sheetrock and thermally formed concrete products are in demand as the housing market improves.
The right supply companies are selling their products in practically every new build and renovation happening around the country. This is where I'm putting my money, and you should too.
P.S. I just finished a report outlining my top stock for housing in North America. It's called, "The Ultimate Profit Portfolio: 5 Stocks Set to Soar." Inside, you'll get my full analysis of this dividend-paying company reaping big profits from America's housing recovery (In fact, this little-known housing company just reported Q3 revenue growth in the U.S. of 54%!).
Before shares move any higher… CLICK HERE for instant access to this special report.
Good Investing,
Tyler Laundon, MBA
Analyst, Small Cap Investor PRO
Editor, Pay Dirt