While the troubles in Europe have lingered for years, they have intensified over the past five weeks. First Greece and now Spain roiled the market with their precarious financial health. Investors are fearful that either may default, which would generate another crash.
Accordingly, many stocks in Europe were hammered, while their American counterparts fared nearly as poorly. However, fears of a sell-off related to these potential defaults have subsided. That's not to say it's completely over this year, but the downside appears minimal at this time. With that in mind, now could be a great time to invest in blue-chip companies with exposure to stable industries such as agriculture stocks.
Stocks and the economy will fluctuate violently from time to time. Yet through those ups and downs, one thing is sure to stay the same: people will eat food. And with the world population having produced its 7 billionth mouth in October 2011, stocks in agriculture are likely to have great long-term value.
Sauer Danfoss (NYSE: SHS) is not the same type of farm equipment manufacturer as a John Deere (NYSE: DE). However, they do manufacture hydraulic systems that go into most machinery used in agriculture and infrastructure development. Their stock also carries about a 4% dividend.
This dividend stock is cheap, too. Management reported $4.74 EPS for 2011, an increase of 7% from 2010. Another 7% this year would put EPS at $5.03 for a 2012 P/E of 7.2.
The shares are trading right at a long-term support level (blue line) near $35. This support zone held the shares for all of 2011 and I expect it to do the same this year. Long-term investors should expect the stock to rise to $53, while more short-term traders should look for a bounce to $44.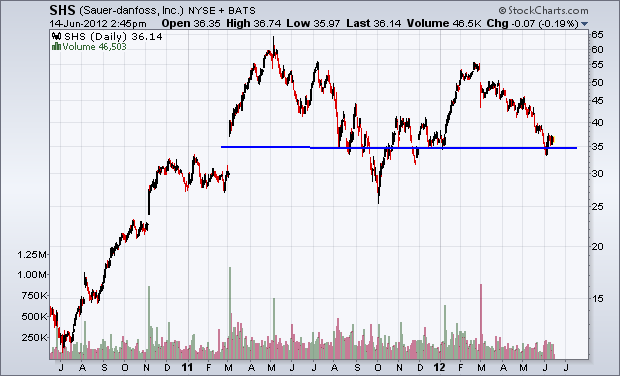 This chart shows the price of Saur Danfoss shares along with an important support area for you to monitor
Equities mentioned in this article: DE, SHS