You probably love dividends.
The bigger – the better. Right? If 5% is good – 7% is great. If 7% is great – 10% is amazing.
Discover how to collect 45% dividends in 1-day (just click here).
When it comes to dividends…
Bigger IS better. But not all dividends are created equal. And that's why the quality of the dividend paying stock is critical.
Let me show you what I mean.
Below you'll find a list of the top 20 highest yielding dividend stocks. This includes stocks valued at more than $300 million – letting us avoid small and risky stocks.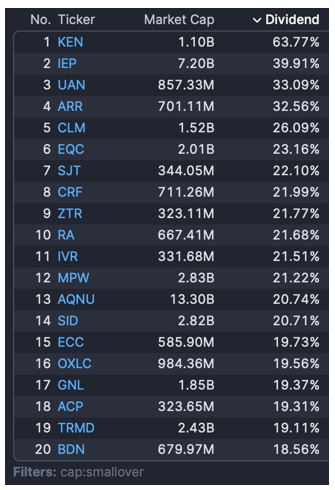 The stocks on this list currently deliver yields of 18.6% – 63.8%.
That's huge compared with your other income generating investments. The S&P yields less than 2%. And a savings account pays out 4% – 5% these days.
These top 20 dividend stocks offer much more income.
Yet there's a catch.
These stocks aren't necessarily financially sound. That means the current dividends may be at risk of being slashed in the coming months.
For example, Kenon Holdings (NYSE: KEN). Most websites show that it's offering a 63.8% dividend.
However, the company has been tangled up in legal battles. It's also been inconsistent in terms of paying any dividend. In 2019, 2020 and 2021 it paid a dividend only once per year. Last year it paid two dividends. And there has been one payout in 2023.
It seems unlikely that Kenon will pay another 3 dividends in the final two months of this year.
Another example is Icahn Enterprises (NYSE: IEP). This is Carl Icahn's investment company that has been under attack from short sellers. The company offers a juicy 39.9% dividend – and Carl Icahn's powerful brand.
In May I warned about Icahn's fake dividend – here's an excerpt:
"The bottom line is that Icahn is hemorrhaging money. The company's dividend is financed through issuing stock, accruing debt, and liquidating investments."
Icahn indeed cut its dividend by 50% in August.
Meanwhile, the stock price had plunged from $32 in May to $17 today.
Here's the lesson…
You can't blindly buy stocks – simply because they offer a big dividend and a high yield.
The stocks with the highest yields are often the worst investments.
That's because they'll disappoint you by CUTTING the dividend. And then they'll disappoint you again when the stock price crashes as a result.
The sweet spot is finding the balance…
You want a high-quality stock – that offers a healthy, growing and sustainable dividend.
Go here to grab a free copy of my book – and I'll show you exactly how to find the best stock.
Unlimited Income normally costs $20 – if you want to pick up a paperback copy on Amazon.
Or you can simply click here and I'll send you a free copy (no S&H and no strings attached).
Happy Friday – and enjoy your weekend.
Ian Wyatt