Artificial Intelligence stocks have been dominating the stock market…
With the "Magnificent Seven" delivering the majority of the YTD gains for the S&P 500.
However, the market continues to overlook one AI tech stock that's paying huge dividends.
Click here for my 1-day income trades – paying out 28%… 41% and even 45%.
Did you miss out on the AI stock rally?
If so, it's time to consider shares of IBM (NYSE: IBM).
Before you dismiss this idea – here's the elevator pitch…
IBM is a tech stock that's been building AI applications for over 30 years. The stock is down nearly 10% YTD. Shares are cheap. And the company's dividend yield is 5%.
In 1997 IBM's Deep Blue super computer beat chess champion Garry Kasparov. And in 2011 IBM's Watson beat the best contestants on Jeopardy.
IBM recently launched Watson X.
Watson X allows IBM clients to build and manage their own AI models.
This certainly isn't as sexy as OpenAI's ChatGPT or Google's (NASDAQ: GOOG) Bard.
That's simply because IBM's tools are powering AI applications for Fortune 500 companies. It runs behind the scenes and is invisible to most people. And IBM has no plans to unveil a generative AI chatbot like ChatGPT.
IBM is far from perfect.
The company saw sales and profits decline considerably in the last 3 years. And today the business is smaller and much less profitable than before.
The bad news about IBM is certainly priced into the stock.
Shares are now trading at $132 – roughly the same level as in 2013. That means the stock has gone nowhere in the last 10-years.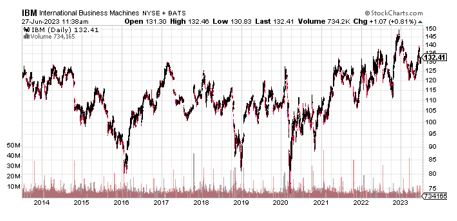 Things finally may be looking up for big blue…
Sales and profits are expected to grow 3% this year. And next year's profits are expected to rise by 6%.
And there may be upside to the analyst estimates.
IBM has met – or beat – analyst earnings estimates in each of the last four quarters. Plus, the stock price suggests that investors are putting little value on IBM's AI initiatives and the upside potential.
IBM stock currently trades at a reasonable 14-times earnings – a 22% discount to the S&P 500 index.
In April the company just raised its dividend – marking the 28th consecutive year of increase.
Dividends are paid quarterly. And the annual yield currently stands at 5%.
Today IBM offers investors a cheap way to play the AI revolution. The stock hasn't run like Microsoft (NASDAQ: MSFT) or Nvidia (NASDAQ: NVDA). And frankly, IBM's results would not have justified a big move in the stock.
Patient investors can collect a 5% dividend while they wait for IBM to prove it's AI chops. And while they wait for the market to wake up to this sleepy AI stock.
Want more ideas for quickly boosting your income?
Simply access the Income for Life Blueprint.
You'll discover…
How you could collect $18,235 in Supercharged Payouts in the next 12-months
The little-known 6.9% CPI savings account
The secret to earning 32%… 57%… and even 88% profits with Shadow Funds
How to earn 22.3% income from real estate – WITHOUT buying a single property
Simply click here for instant access (it's free).