Less than three months ago, I wrote about how soft commodities were cheap and appeared primed for a meteoric rise. I just didn't know how meteoric.
A nationwide drought this summer has pushed prices for most soft commodities through the roof in recent weeks. Coffee, corn, cotton, sugar – you name it, the price has skyrocketed of late.
Take a look: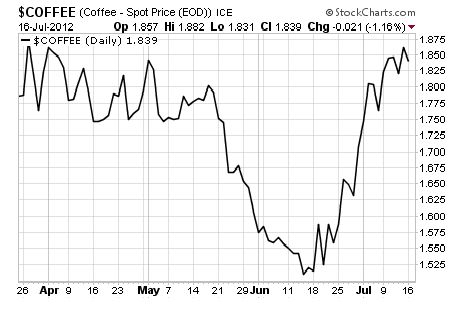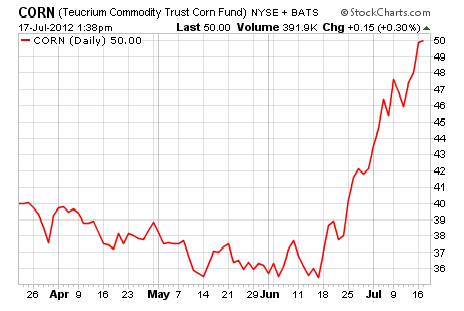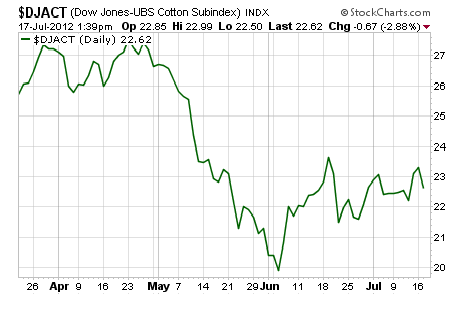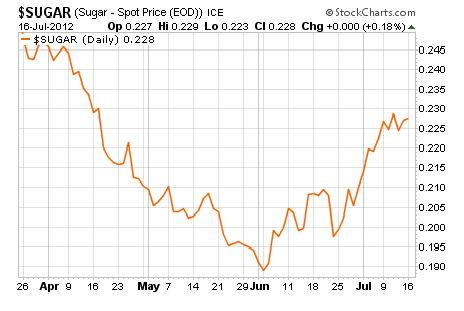 Wheat, soybeans and cocoa have also been on been on quite a run. Some soft commodities went from trading below 50- and 200-week moving averages to at or near two-year highs.
That's what happens when crops suddenly become scarce. According to the National Climatic Data Center in Asheville, N.C., 55% of the country was in the midst of a moderate to extreme drought at the end of June, making it the most widespread drought in the U.S. by percentage of affected land since 1956.
Crops have felt the brunt of the driest spell in more than half a century. According to the Department of Agriculture, 38% of the nation's corn crop is in poor to very poor condition. Wheat and soybeans aren't faring much better.
With crops eroding, prices are soaring abnormally fast. The iPath Dow Jones UBS Grains Subindex (NYSE: JJG) ETF – which tracks corn, soybean and wheat futures – has returned a whopping 36% in the past month. According to Barron's, that's the index's sharpest one-month gain since 2008.
So while we did say to keep an eye on soft commodities back in the spring, they've been climbing at a much faster rate than most anyone could have foreseen.