Energy stocks are cheap.
In late June, I mentioned that I was growing very bullish on the energy sector. The sector responded by rallying 4.5% in the week following that report.
After I took another look at Energy Select Sector SPDR (NYSE: XLE) this morning, my outlook remains bullish.
Though the shares hit my $69 near-term price target this month, this energy sector ETF has plenty of upside left.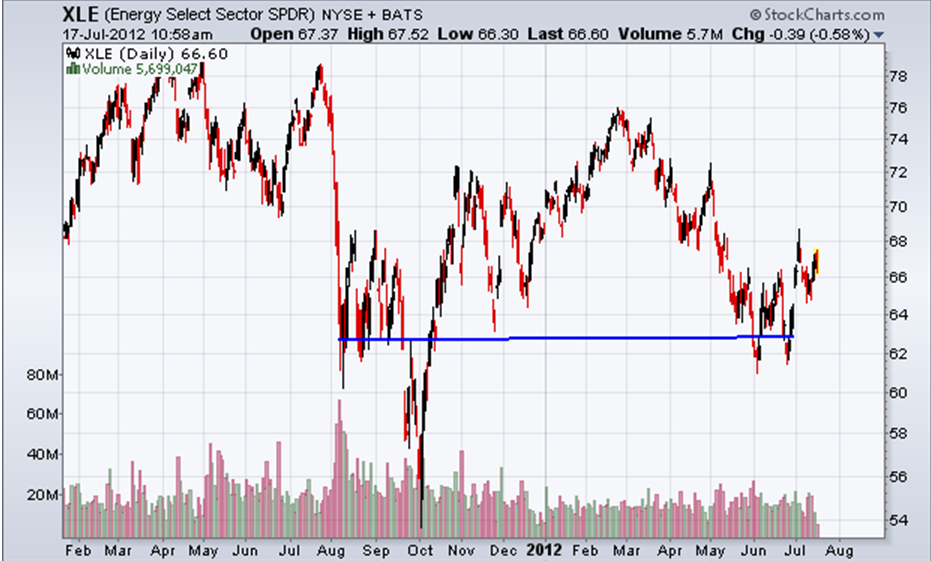 This chart shows the price of XLE shares along with an important support area for you to monitor.
Buyers protected $63 (blue line), which should act as a major area of support from now on. Long-term investors can also use that zone as a stop loss.
The buying activity in the $63 region should provide XLE with the momentum it needs to reach my new price target of $76. The ETF could motor even higher if economic growth accelerates.
Oil prices (and most energy stocks) benefit from increased economic activity. Progress in Europe's deleveraging plan or positive developments in the Chinese economy would be a major boon to energy stocks.
Traders looking for a second rally in energy sector ETFs and stocks should look to upbeat reports from Europe and Asia for the fuel.
Equities mentioned in this article: OIL, XLE.