2011 is history … thankfully. Volatility dominated equities, but the markets had little to show for their ups and downs throughout the year.
Oh sure, there were profitable investments here and there. Treasuries turned out to be a good bet, and gold had a decent year, despite fading in the past couple of months. And the normally sleepy utilities sector – known for safe and steady dividend payments – was one of the year's best performers. Go figure.
But for most markets, 2011 was not a year to remember. That's why we're not going to rehash it.
Looking forward to 2012, there are reasons to be optimistic. Not because we feel the major market averages will finish the year considerably higher. Frankly, we're not even thinking about where the overall market is headed.
No, we're excited because we see areas where we feel certain stocks and sectors will excel. That's why I asked our research analysts and newsletter editors (myself included) to dig deep into their respective areas of expertise to unearth the best profit opportunities for 2012.
Just a couple weeks ago, I asked each of my colleagues to share their very favorite investment ideas for 2012 with our loyal Daily Profit readers. The investment ideas represent their very best ideas – and the ones that they think have the biggest potential for profit in the year ahead.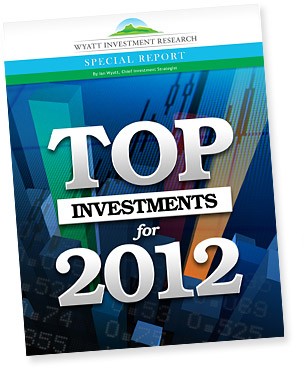 And best of all, I want all Daily Profit readers to have access to this report – absolutely free. No registration or signup required. Just click here now to download the report immediately. No obligations. No hassles.
Normally, our editors and analysts save their best investments for our most loyal and paying subscribers. But as my gift to you, I'm making some of our top investment ideas available to you – absolutely free.

I want you to see the quality of the analysis we conduct here at Wyatt Investment Research. I want your portfolio to get a jump start on 2012 by making these picks freely available to you for a limited time. (Don't worry about our newsletter subscribers – they'll get plenty of great investment ideas throughout the year.)
Let me tell you a little about what you'll see in this free special report. You'll get seven specific investment ideas that our editors and analysts feel are the best opportunities today. When you download the report, you'll hear about the following off-the-beaten-path ideas:

A former high-flyer that fell to earth in a shocking nosedive in 2011. But now it's priced right and should be a major outperformer in 2012 (in fact, it's already started to climb).
A "spicy" stock that pays an ever-increasing dividend
A natural resource play based on misplaced Fed policy and huge mining reserves
A trash cash cow that pays a solid dividend to boot
An ETF that protects you when (not if) interest rates start rising
A high-yielding bond ETF that should easily outgun U.S. Treasuries
A basic commodity stock that's on sale right now
Because many of these investments have already started to move as we expect (one stock is already up 35% from its recent 2011 low), I urge you to download your copy of this report now. All you need to do is click here now to get the report.
Let me assure you that you need not sign up for anything. No email registration, no credit card required. I simply want to get this report in your hands now so you can experience for yourself the high-quality research we conduct for our subscribers. Just click here to download your report so you can jump start your portfolio today.
I trust you'll benefit from these great investment ideas. I wish you all the best for a prosperous 2012.
Ian Wyatt
Editor, Daily Profit
Richmond, Vermont