Fears of a double-dip recession in Europe and record low interest rates are only two of the many concerns facing investors.
Let's face it … the past year has been difficult.
The major U.S. indices have undergone enormous price swings that netted little for stock holders.
Meanwhile, commodities, which are supposedly a safe haven, declined. The safest of all commodities – gold – is down 15% from its August 2011 peak.
Though blue-chip stocks are not immune to declines, they offer the one thing most stocks and all commodities cannot – cash.
Blue-chip companies have lots of cash. These businesses hold up well in nearly every economic environment. Their financial stability allows them to remain profitable and distribute earnings out as cash dividends to shareholders.
Because waste removal is a critical component to any society, companies in this sector are safer and more reliable. My favorite high-yielding blue chip is Waste Management (NYSE: WM) because it rewards you with cash from trash.
While it seems like hyperbole, Waste Management is a way to turn trash into cash dividends. However, Morgan Stanley (NYSE: MS) analysts seem to have forgotten that fact when they downgraded the company.
The announcement immediately sent the shares 5% lower in one session to $31. Yet the stock recovered from the drop … and more … only one week later.
Investors were right to support Waste Management when Morgan Stanley analysts didn't. This chart proves it…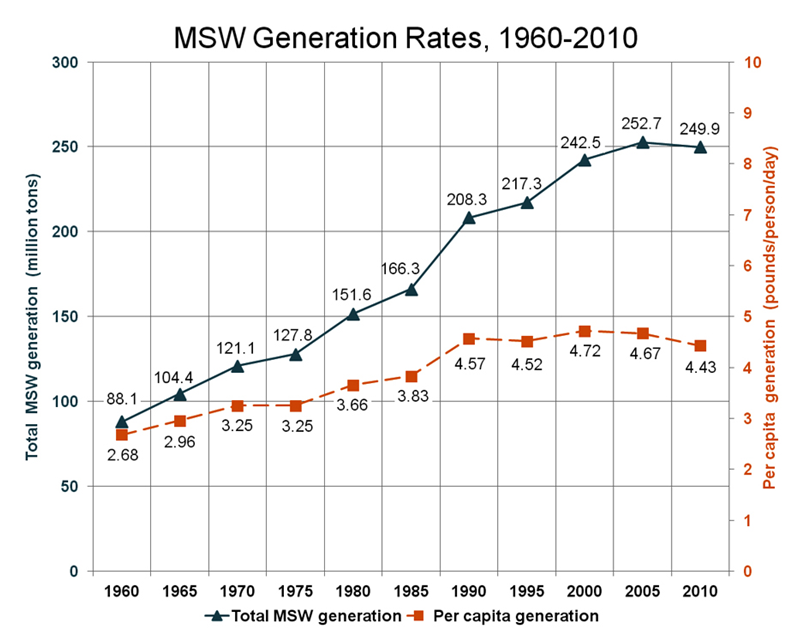 U.S. municipal solid waste according to the EPA
I bring these statistics up because they bring to light a fact, albeit a gross, trashy fact at that: humans make a whole lot of garbage.
Trash generation rates have exploded. The amount of garbage sent to landfills has almost tripled over the past 50 years.
Also, consider that the U.S. is merely 5% of the world's population. Imagine the amount of trash that comes from the other 95%.
You can't count on the weather. You can't count on the government. And you can't count on the stock market. But you can count on the demand for good trash removal.
In this economy, you need things you can trust.
Waste Management is the largest waste disposal company in North America, providing collection to 21 million customers through 345 transfer stations and 266 landfills. More than 80% of those customers are on at least 3-year contracts.
This annuity-like revenue created a history of converting this cash into shareholder value.
Waste Management's dividend has steadily increased at a compounded annual growth rate of 7.8% over the past seven years. The payout grew 70% in value from $0.80 per share in 2005 to last year's $1.36 per share.
When it comes down to it, waste removal is one of the most essential services required by modern society. Proper human waste removal is what keeps our cities livable, and prevents our suburbs from turning into third-world countries.
Waste Management keeps us from living in our own filth, while converting a portion of this filth into renewable energy. This solid stock should bounce back from the recent analyst downgrade and rally to $37.
Until then, enjoy the safety of a blue-chip company and its 4.4% dividend.