It has been a banner year for NBC Sports. And that has made it an extremely profitable one for Comcast (NASDAQ: CMCSA) shareholders.
First, the network aired Super Bowl XLVI between the New York Giants and New England Patriots back in February. All that did was attract the largest viewing audience in U.S. history.
Then, in late July and early August, NBC and its many partner channels aired the London Olympics, which with an average of 31.1 million viewers per night was the most watched Summer Games since 1996 in Atlanta. Better yet, with 219.4 million total viewers over its 17 days of coverage, the London Olympics was the most watched "event" in TV history.
Now Sunday Night Football – the crown jewel of NBC Universal's fall television lineup – is off to its best start since the network resumed airing NFL games back in 2006.
Sprinkle in the fact that NBCUniversal launched a new all-sports channel – the aptly named NBC Sports Network – at the beginning of the year, and it adds up to a huge year for NBC thanks largely to sports.
NBC's big sports year has been a boon for Comcast, the company that owns NBCUniversal. Comcast shares are up 46.5% this year. Since July, the stock has reached a new all-time high on almost a weekly basis.
Sports aren't solely responsible for Comcast's meteoric rise. The company is also a leading cable, Internet and phone service provider. And NBC has plenty of non-sports shows, a few of which, like "The Voice," have been smash hits.
But sports have been the catalyst behind the company's increased earnings and surging stock.
Just look at the chart below: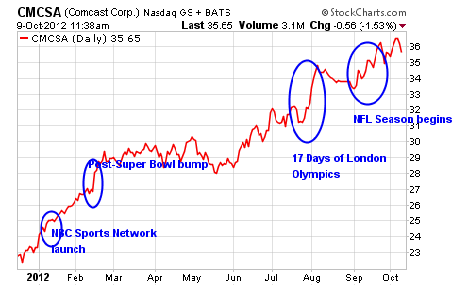 Each of Comcast's biggest moves this year has come after a major sports-related event. Coincidence? Probably not. The move the stock made during the Olympics was especially pronounced.
So take a bow Michael Phelps, Usain Bolt, Tom Brady and Eli Manning. You've made this an unforgettable sports year.
You've also made Comcast shareholders a lot of money.