Are investors ready to buy First Solar (NASDAQ: FSLR) again?
The solar giant is always a favorite among traders. Very few liquid stocks can double or triple in a year. Or, in the case of FSLR lately, fall by 40% to 90% over the course of a year.
Its volatility and liquidity make it a great stock for traders, but its value could bring investors back.
The industry certainly has its headwinds. Governments are strapped for cash, eliminating funding for green energy projects. Also, China is flooding the solar market with cheap panels, bringing retail prices below cost.
Yet First Solar manages to report positive income.
Analysts expect EPS will decrease to $4.40 this year, from $6.01 in 2011. However, that's still positive earnings, which alleviates bankruptcy fear. Moreover, the company reported $412 million in operating cash flow for the first six months of 2012.
A positive earnings report surprised investors last quarter, too. FSLR blew analysts' projections away, reporting $1.65 and handily beating the $0.90 consensus estimate.
Though I don't expect FSLR to go on a major rally and reclaim $100 any time soon, the future for FSLR shares appears brighter than before. In fact, the stock may increase by 50% before year's end.
Very quietly, FSLR more than doubled off a June bottom, topping out near $26 in August. Since the shares topped, they've made a series of lower highs and higher lows, forming a wedge.
Technicians often view the wedge pattern (blue lines) as a consolidation phase prior to a big move for a stock. True enough, that big move could be to the downside. However, given the favorable ascent from June and the positive fundamentals, the breakout should be to the upside.
The initial target out of the wedge is $34. The shares should break out of the wedge in October, setting the stage for huge profit in the weeks ahead.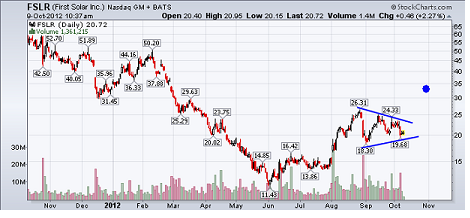 This chart shows the price of FSLR shares along with an important pattern to monitor.

Equities mentioned in this article: FSLR