The shares of Bank of America (NYSE: BAC) have fallen 30% since their March top. However, unlike similar big banks such as Morgan Stanley (NYSE: MS), BAC remains 50% above its 2011 crash price. Now could be a great time to catch a bullish turn in Bank of America – and other big banks stocks, too.
The upward momentum of bank stocks was an important component of the rally that began last October. However, bearish news from JP Morgan Chase (NYSE: JPM) along with weakening U.S. employment hammered the banking industry in May.
While the European economic news over the past few weeks has been grim – and no doubt JPM will record heavy losses this quarter – one has to wonder if the fall in financial stocks over the past few weeks is too excessive. It will be important for traders and investors alike to watch bank stocks closely. Banks were the market leaders in the rally that started in October 2011 and they have also been the leaders in the pullback that began in March.
I expect that banks will continue to provide a leadership role and they will continue to spearhead the trend of the indices. And in looking at the BAC stock chart below, it's likely the future direction of the shares (as well as the market) could be higher.
BAC stock is trading near a congestion area of support (blue circle) where it stabilized back in August, September and October. The shares are also near the 200-day moving average (the orange line), which is often an area where institutional money supports stocks in a bullish trend (BAC is in a bull trend until $4.92 is broken).
In the short term, traders should be looking for a bullish turn that gets BAC back above $8.25. Investors also need to pay close attention to what BAC does in the near term. A climb above $9.50 would indicate a major bottom for the stock and the broad market would likely be rallying as well.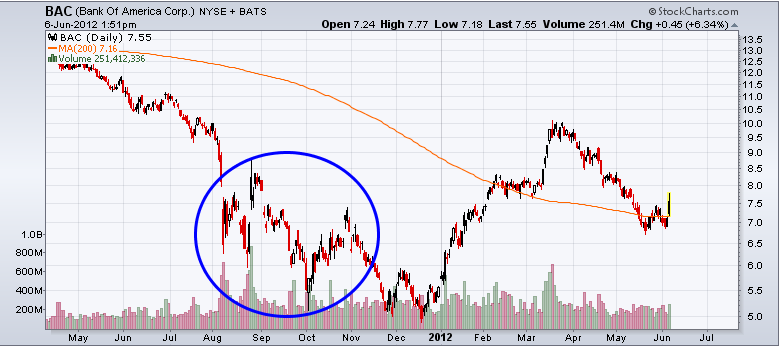 Equities mentioned in this article: BAC, JPM, MS