Back in June, Netflix (NASDAQ: NFLX) was in a position to make a quick 20% rally. At the time it was easy to be a seller since most people were bearish. Despite the negative sentiment, traders needed to get bullish once the shares broke $66.
The call paid-off and NFLX rallied over 20% to its $82.50 price target.
The rally in Netflix shares followed a report showing a massive surge in usage. CEO Reed Hastings announced that customers watched nearly one billion hours in June. This compares to two billion hours for the entire fourth quarter.
The steep decline in NFLX stock was somewhat correlated to a belief that customers were scaling back on usage. Analysts surmised the scaling back was a sign that the Netflix business model had finally run its course.
Though NFLX has yet to report financial results for the quarter, the increase in customer usage in June has to be a positive development headed into earnings. However, is the stock a good buy?
As mentioned in a previous NFLX article, $62.50 appears to be where the shares completed a major bottom. The two bullish sessions this week further solidified that analysis.
Its next major resistance zone is $90 then $104. NFLX will need to report huge earnings growth to overcome those areas of selling pressure.
However, the bulls should begin to support the shares at the 50-day moving average (orange line). That support should give the company a few quarters to report the solid financials it will need to have in order to overcome its technical resistance.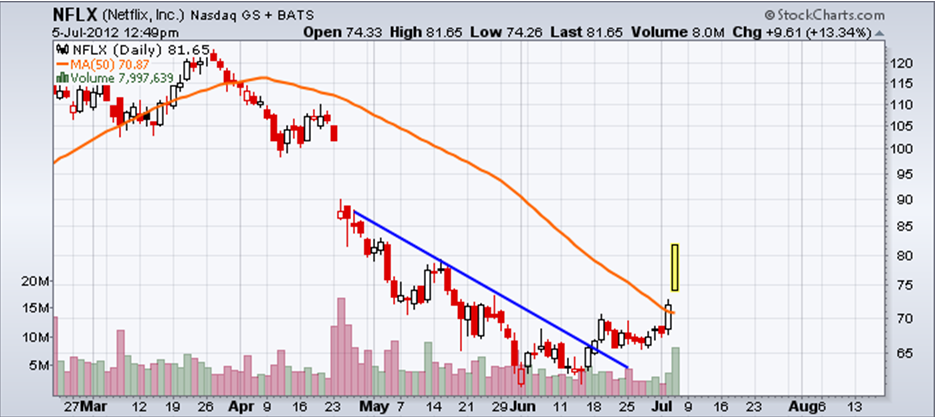 This chart shows the price of NFLX shares along with an important support area for you to monitor
Equities mentioned in this article: NFLX