Bulls need to be cautious. Apple was a great pick-up a month ago, but now the shares are at a difficult resistance zone.
May was the right time to purchase Apple (NASDAQ: AAPL) at a huge discount. At the time, the price of AAPL was 10% below its second quarter earnings pop. Both the chart and valuation screamed, "buy" before it rallied.
In a rally that didn't surprise anyone, Apple stock recovered. The shares sit near $619, which was a short-term price target two months ago. It's also a key resistance (blue line) area to monitor.
Apple has been rejected twice this year near $619. This suggests that the selling pressure is strong in that area. It signals shareholders are waiting for a key announcement that would validate another move higher.
Later this month management will report fiscal third quarter earnings. The earnings announcement could be exactly what investors need to have before they are willing to drive AAPL stock higher.
Consensus estimates call for Apple to record $10.33 EPS this quarter. However, I think AAPL will need to crush estimates and report greater than $12.15 EPS to motor above $619.
Those who are bullish on Apple and believe it will beat the consensus analyst view should buy its shares ahead of the announcement.
On the other hand, waiting isn't such a bad strategy. A breakout from the $619 resistance zone should result in a climb higher to $720 this year. Any failure to breach $619 would result in a move lower to $510 (blue line) support.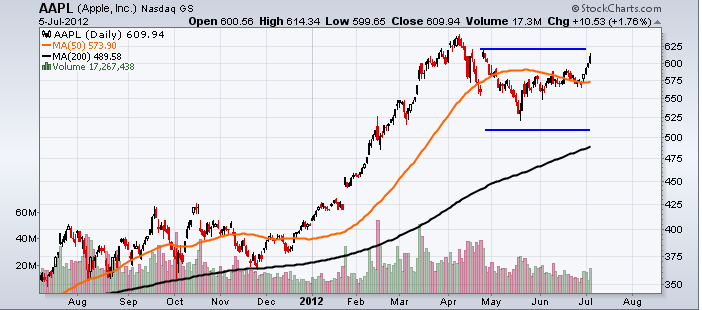 This chart shows the price of AAPL shares along with an important resistance area for you to monitor
Equities mentioned in this article: AAPL