Shares of Priceline (Nasdaq: PCLN) are up 7% to $630 this morning. The move follows the news that Priceline crushed fourth quarter financial results.
Priceline reported earnings of $226 million, or $4.41 a share, from revenue of $991 million, up from a profit of $135 million, or $2.66 a share, on $731 million in sales in the same period a year ago. Excluding one-time charges, Priceline would have earned $276 million, or $5.37 a share, to top the estimates of analysts.
Shares look like they broke out of a beautiful channel formation. The target of the channel break is $650, so expect further bullish momentum in the very near term.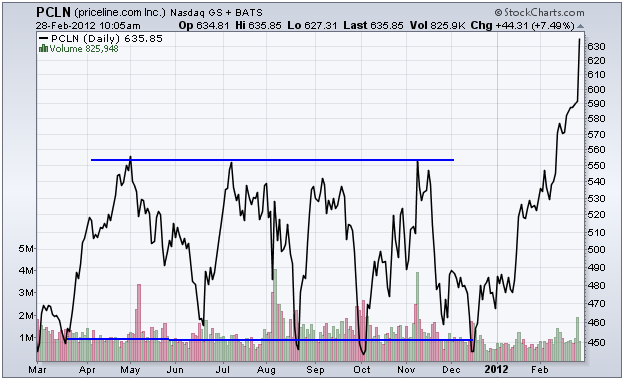 As of yesterday, 22 analysts followed the stock. Of the 22, 18 have buy ratings although the average price target for Priceline is $627. More information about Priceline's fourth quarter results can be found here on the investor relations website.