The lull in commodity stocks doesn't mean the bull market is over – it means that successful "contrarian" commodity bulls are snapping up world-class commodity-producing companies for extremely cheap valuations.
What do I mean by a lull? Well, take a look at this chart plotting the Amex Gold Bugs Index (NYSE:HUI) against the S&P 500 (SPX):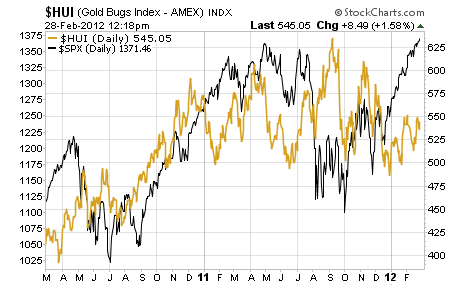 Gold stocks are lagging.
I know gold stocks are an imperfect proxy for ALL commodities and that some commodities like oil are still in lock-step with the market. But right now, most commodities are lagging the broad market. It's a rare situation, since we're clearly in a long-term secular bull market for commodities and a long-term secular bear market for stocks.

For just a few examples, take a look at the price performance of sugar, copper and natural gas plotted against the S&P 500 for the past 14 months: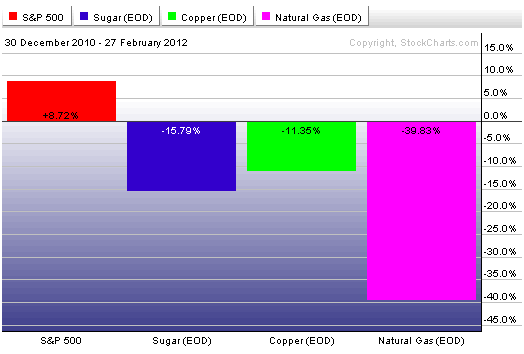 With most commodities falling behind, some of the best commodity stocks are now selling for cheap valuations.
And the flip side of a cheap valuation is much higher dividend payouts. In commodity investing, "you're either a contrarian or you're a victim" as legendary resource investor Rick Rule says.
And right now, my boss Ian Wyatt has just finished up a full research report on one gold company that's been rewarding shareholders with huge dividend increases for the past decade. This company has raised its dividend an average of 26.5% over the past 10 years during this gold bull market. This year, it looks like it might raise its dividend about 36% from 2011's payout rate.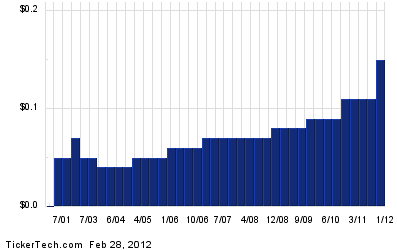 Now, you might be unfamiliar with the very idea of dividend paying gold companies – and the fact is, the overwhelming majority of miners and explorers do not pay a single penny in dividends, and they likely never will.
But the company I'm referring to is the only one of its kind in the world. It doesn't mine, refine or explore for gold.
This company has huge upside leverage to higher gold prices, which is why it's been able to continually and dramatically raise its dividend payouts.
Today, gold and silver companies are rallying – mostly because there's lots of air coming out of the Euro and the dollar. As these currencies fall, it takes more individual units to buy the same assets.
So this could be the next great leg of the commodity bull market that we've been waiting for.
If you're interested in finding out about this opportunity, I suggest you take a look at a risk free trial offer for Ian's research. You can read more about it by clicking here now.