It was just last Thursday that we discussed "talking one's book" and made special mention of George Soros. If you missed that issue of The Daily Profit, talking one's book means advocating a belief in public that supports one's trading position, regardless of whether you actually believe it's true.
So it's interesting that Soros has a piece in today's Financial Times where he states that "The survival of Greece would still leave the future of the euro in question." He goes on to say that the aid package for Greece won't work for Spain, Italy, Portugal or Ireland.
Now, if we check the chart we can see that the U.S. dollar has been rallying. Part of the reason for this has been weakness of the euro due to debt problems in European countries.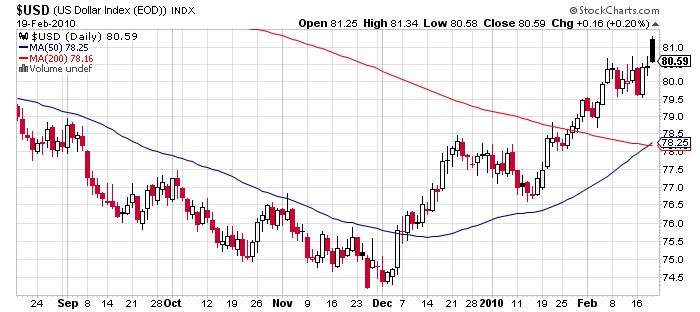 The recent spike higher by the dollar was a response to the Fed's discount rate hike. And quite frankly, it looks unsustainable. I think we can assume that Soros is short the euro, and he may even be trying to cover that short right now, in anticipation of a rally for the euro.
Of course, a rally for the euro would send the U.S. dollar lower. That, in turn, will be good for U.S. stocks, gold, and oil.
Of course, subscribers of TradeMaster Daily Stock Alerts' We prepared for this move in the dollar after Jason Cimpl said the currency bottomed on December 4th.
Jason's accurate market forecasts have put his readers in position for a sweet string of profits in February. They've banked 19.5%, 15.5%, 7.2%, 6.5%, 6%, 5.4% and 4.5% and only taken one loss, a measly -1.3%. Nice work, Jason.
The Coal Rally
Bloomberg reports that coal prices will average $59.28 a ton in 2010, a 17% increase over the average price for 2009. Much of the reason for this gain is China's voracious appetite for coal. In 2009, the country imported 130 million tones, 300% more coal than it did in 2008.
So it's no wonder that coal stocks have been rallying. But nothing beats the 47% move over the last week by the Chinese coal stock I recently recommended to Energy World Profits readers.
I've got a $14 target for the stock, which would mean another 90% gain. For more click HERE.
Finally, I want to mention the commercial real estate company Maguire Properties (NYSE: MPG). As you know, I've been watching this stock as a contrarian play on the commercial real estate sector.
I recommended it back in October and Daily Profit readers were treated to some nice gains (one reader wrote to say he doubled his money). I recommended the stock again when it hit $1.50 a few weeks ago. After a decent move, it dropped back to $1.50, where it has languished for two weeks. I'm starting to get nervous…
You see, $1.50 is a strong support level for the stock. But there's been some positive news for commercial real estate lately, and Maguire hasn't budged. That's not a good sign.
I'm not panicking, but Maguire needs to move higher, and soon. I'll keep you posted…