The Apple (NASDAQ: AAPL) tailspin continues.
Shares of the world's largest company are down another 6% today, briefly dipping below $400 before recovering some its losses. Apple hasn't closed a trading session below $400 since December 2011.
Now it's in danger of doing it again.
Apple's latest decline continues a pattern of falling lower every time Wall Street's talking heads insist it has hit a bottom. The stock mounted small rallies in January, February and March – only to fall further still each time.
This chart shows Apple's two-steps-forward, three-steps-back performance so far this year: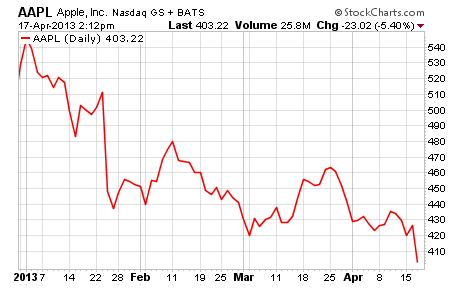 But Apple's decline extends back further than the beginning of the year. Right now it's approaching seven months.
Here's a timeline of Apple's performance since late September:
Sept. 18: Apple shares top $700 for the first time in their history.
Sept. 24 – Nov. 15: The stock loses 175 points – a 25% drop-off in less than two months.
Nov. 19 – 26: A Thanksgiving week resurgence! Shares shoot up 12% in just five trading days.
Dec. 3 – Jan. 25: A steady decline. Apple shares shed another 147 points, dropping to a 52-week low of $439.
Feb. 4 – 11: Is the rally on? It looks like it after the stock advances 8.5% in a week.
March 4: Never mind. The stock hits another year low, settling at $420 a share.
March 13 – 25: Another false alarm. The stock reclaims the $463 mark. Alas, the rally was again short-lived. A new decline began the next day and shares haven't been this high since.
Where will Apple's freefall end? Have we finally hit bottom?
With the stock trading at just 8 times forward earnings and analysts still setting a mean price target of $600 a share, it's reasonable to think now is the time to buy Apple. But the PE has been low for months, and Wall Street has been repeatedly wrong about this stock of late.
It would be a mistake to assume that Apple's decline is finally over.