Chipotle (NYSE: CMG) has had a wild 12 months. The shares dropped from highs near $420 to lows near $240. Moreover, that decline occurred in only five months.
Though CMG has crawled back to $340, the stock remains the target of bearish investors. Greenlight Capital's David Einhorn slammed the stock last year, saying rising food costs would hurt profits. An earnings miss in October due to rising costs validated his sentiment.
Then Jeff Gundlach of Doubleline Capital – my favorite bond guru – revealed in a recent investor presentation that Chipotle was his hot new short idea. Gundlach's last stock idea was to short Apple (NASDAQ: AAPL) down to $420 last September.
The big bears may be lurking, but Chipotle hasn't lost much ground recently. In fact, the shares look comfortable near $340, and haven't encountered a whiff of strong selling pressure.
However, the lack of selling may not last for long. CMG is up against a major resistance level (blue line). This resistance level formed after a major earnings miss (blue arrow) took the shares down last year. CMG found resistance here for the first time in September, and the shares proceeded to plummet 33% shortly thereafter.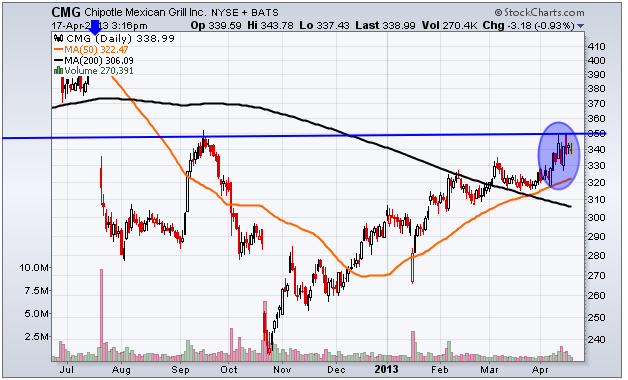 This chart shows the price of CMG shares along with an important resistance level to monitor.
I'd be hesitant to buy CMG at the current price. The stock could easily plunge given the bearish analyst views and the proximity to a major resistance area.
Moreover, the stock produced three topping candlesticks this month (blue circle). First a bearish harami, then engulfing and finally a dark cloud formed. Though these haven't yet produced a top, their appearance near a long-term resistance level is noteworthy.
However, there are a few bright spots for buyers. CMG is above its 50-day moving average (orange line) and 200-day (black line) moving average. These trend lines should provide a measure of support should CMG decline.
Additionally, the stock has very little resistance above $350. So it could be a speedy ride back to $400 if that resistance level fails to hold the buyers back.
Equities mentioned in this article: CMG, AAPL
Positions held in companies mentioned above: AAPL
Don't Miss: ChartWatch: Trulia Prepares for Another Rally