Last week Apple (Nasdaq: AAPL) joined the exclusive $500 billion club. And now, the outbreak of headlines about the potential of Apple being the first U.S. company to reach $1 trillion is underway.
But is reaching that threshold a blessing or a curse?
Check out this blurb from the L.A. Times:
"We're now asked to contemplate the possibility of the world's first trillion-dollar company. It would, of course, be a U.S. technology leader. On Wednesday, brokerage CS First Boston suggested that everyone should stop being so small-minded: Analyst [name redacted] declared that [this stock] is on track to…become the first company with a market value exceeding $1 trillion. On the face of it, that's not really asking much–just a little more than a doubling of the stock price from here."
What's interesting is that the blurb from the L.A. Times wasn't about Apple; it was about Cisco Systems (Nasdaq: CSCO). And it was written more than 12 years ago.
Same story, different company.
Cisco, like several other behemoths such as Microsoft (Nasdaq: MSFT), General Electric (NYSE: GE), Intel (Nasdaq: INTC) and ExxonMobil (NYSE: XOM), reached the $500 billion mark only to fall from grace shortly thereafter.
Cisco lost 20%, or $990 million in market cap, one month after reaching what seems to be the $500 billion plateau.

Along with Cisco, the chart below displays the other four members who made it into the $500 billion club. Note that the S&P 500 was at or very near a 52-week high each time a company hit $500 billion.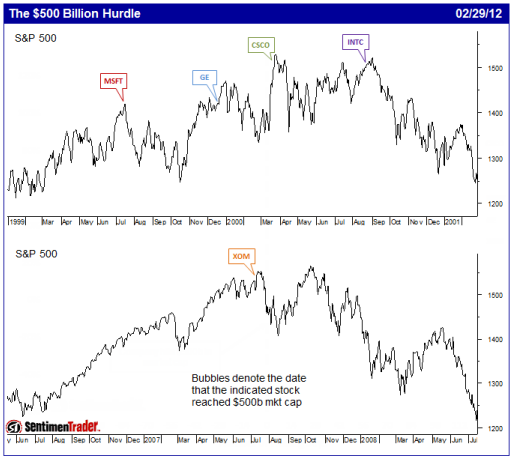 Later this week, Apple will introduce the iPad 3. The stock jumped 2% immediately following the release of the iPad 2, but that marked a six-month high for the stock.
Will the shares suffer the same fate this time around? Furthermore, will Apple suffer from the aftereffects of becoming a member of the $500 billion club?
If history has a say, Apple is in for a reprieve. Be prepared.
Kindest,
Andy Crowder
Editor and Chief Options Strategist
Options Advantage and The Strike Price
Editors note: This Thursday, March 8, at 6 p.m. EST, I'm hosting a live chat event with a small group of options-minded traders titled "How to Make a Consistent 15% Every Six Weeks." If you are interested, please sign up soon! Click here to register today and secure your seat at this free live chat event.