Over 100 years ago, one of my ancestors invested in a small amount of land in Beaumont, Texas. In 1901, the biggest oil strike in U.S. history happened just next door.
The Lucas geyser was the first big hit of the Spindletop oilfield and it shot over 100,000 barrels of oil a day into the Texas sky for nine straight days before being capped.
The most amazing thing is that my father and his siblings are still profiting. Because my ancestors didn't sell out, they still collect royalty checks from that small investment made over one century ago.
There are thousands of exploration discoveries – just like Spindletop – that have rewarded investors decade after decade. That's why I've refused to sell a single share of Africa Oil (OTC: AOIFF). Even after the stock rose 450% after striking Kenyan oil, I firmly believed that the bigger profits were yet to come.
Selling my stake now – and recommending my subscribers do the same – would be akin to selling out of the first companies to strike oil in Texas back in 1902. That would have been a huge mistake. And I think 300%, 400% or 500% is just the beginning.
The companies I refer to – Gulf Oil, Texaco and Chevron (NYSE:CVX) – all grew out of the first oil discoveries in Texas. Early investors in these companies make a heck of a lot more money by holding on to their shares. Had they sold out just a year after those first discoveries, they would have missed out.
I believe this story will repeat itself in Africa in the years ahead. And that's why I'm encouraging my family, friends, and subscribers to get in on the ground floor.
Part of frontier investing means holding on. That's remains true whether things go well, and often even when they don't. The risks are precisely why the potential payoff is so large. You don't balance this risk by not investing – you balance it by investing a reasonable amount of money that you can live without. But which could multiply a hundredfold, or more, over the coming decades.
Over the next couple of months there are a number of drilling catalysts that I believe will get Africa Oil's stock moving higher once again. There are certainly no guarantees. But I'm watching each of these events carefully, as are my subscribers.
The map below shows exactly where all of these wells are located, as well as the various exploration blocks that Africa Oil owns. Also on the map are Africa Oil's recent discoveries, which are expected to start producing over 250,000 barrels per day within the next few years.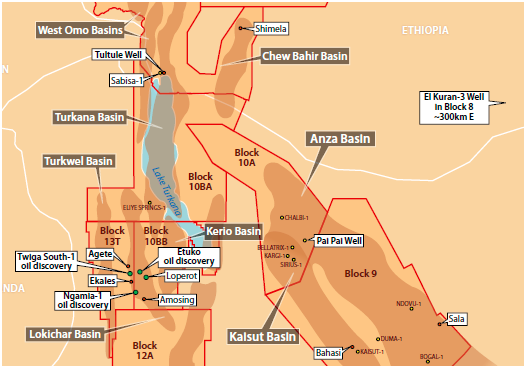 The company's drilling activity is picking up based on recent success. And in fact in late 2013, Africa Oil and its partners will have five rigs drilling oil wells in Kenya and Ethiopia.
The first catalyst on the horizon is the result from the Ekales well on exploration block 13T in Kenya.  This is a relatively low risk well since it's very close to two prior discoveries, Ngamia and Twiga. Africa Oil is just beginning to "drill out" around these discoveries to firm up resource estimates.
And any day now, the company should begin drilling the Tultule-1 well in the South Omo Block in Ethiopia. Both Marathon Oil (NYSE: MRO) and Tullow (OTC: TUWOY) have a stake in this well. It's sure to be another share price catalyst since any discovery opens up another massive play in western Ethiopia.
Also this September, Africa Oil and Marathon will begin drilling the potentially large Bahisa-1 exploration well on Block 9. This well will target a structure similar to a 6 billion barrel Sudan discovery, and expectations are high.
And finally there's the potentially massive El Kuran-3 well that Africa Oil and partner New Age will begin to drill this month on Block 7/8 in Ethiopia. With new technical advances, this well could be a major producer in the company's portfolio.
It's rare to get in on the ground level of a frontier country's first oil production. But that's exactly what we've done in Kenya.
Ten or twenty years from now, I'm fully expecting that we'll look back and smile…and think about how we might spend our  royalty checks from one of the biggest oil discoveries in Africa.
Eureka! Huge, new oil reserve discovered under the Atlantic
Geologists estimate it's the biggest reserve in the Western Hemisphere. We call it, the "Saudi Arabia of Offshore Drilling." And only one company has the high-tech rigs to reach these billions of barrels of crude. It's there right now… reaping massive profits with an entire fleet of drilling rigs. The best part is, the bulk of these profits are paid out to shareholders in the form of dividends. And this driller is making so much money… it regularly pays out special dividends (it's paid out 20 consecutive special dividends in a row). That means investors earn up to 8 dividends a year — all from this one company. Click here for all the details – before the next ex-dividend date!