There could be a change of trend on the way for agriculture stocks. If that's the case, shares of Mosaic (NYSE: MOS), Monsanto (NYSE: MON) and Caterpillar (NYSE: CAT) should rally. If the rally unfolds, I will cover more stocks from the sector. But for now I am focused on Caterpillar.
The shares have fallen from $115 to $95 during the past three months, but that bearish move may be coming to an end. That's because CAT shares are up against two strong levels of support at the $95 level.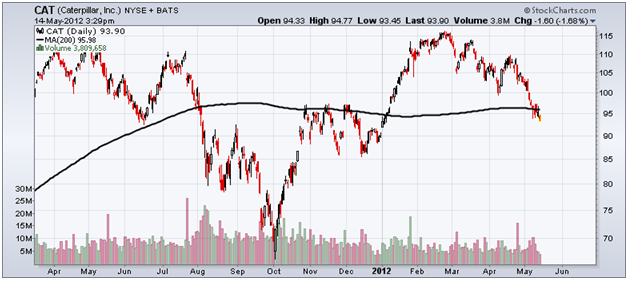 First, the $95 area was an important level of support throughout November and December. It seems likely that this level will provide a certain amount of near-term support once again.
The second spot where I expect the shares to encounter support is along the 200-day moving average (black line in chart below), which many investors use to define a spot to add shares to existing positions. This is how support zones are created.
The 200-day moving average is currently at $96. I would expect investors to be accumulating shares at any price below that moving average.
With troubles spreading in Europe and inflation escalating in Asia, the long-term view remains muddled. In the short term many agricultural-themed stocks look ready for a bullish turn. And CAT shares look ready to pop to $104.