First Solar (NASDAQ: FSLR) may end down for the year, but 2013 promises to be much better.
Solar companies have been crushed in 2012. Ever since the Solyndra bankruptcy, investors have been squeamish about the solar industry.
There's also been a huge supply glut thanks to Chinese manufacturing subsidies. This excess inventory caused solar panel prices to plummet, crimping margins and making profitability nearly impossible.
Admittedly, those challenges will persist in 2013. However, investors appear ready to look beyond the present and accept that solar has a bright future.
One of the biggest beneficiaries of that optimism is First Solar.
I'm a huge fan of solar power and First Solar in particular. In fact, I recommended buying the stock in October.
At the time, I pointed out the pennant (blue lines) as a bullish development. I even went so far as to say FSLR would rally 50% by year's end.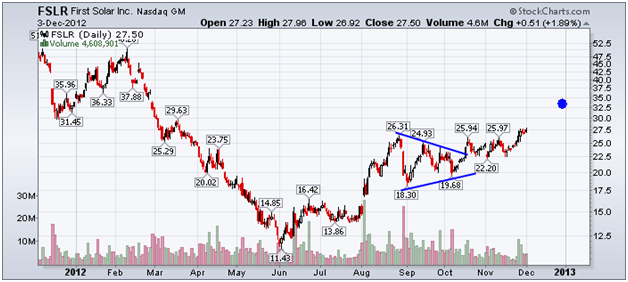 This chart shows the price of FSLR shares along with an important resistance area to monitor.

The stock is up around 31% since that October report. Though the end of the year is approaching, I believe FSLR has enough momentum from the October breakout to rise to my $34 target (blue circle). Further helping that momentum is an absurdly high (46.9%) short interest ratio (down from 51.5% on November 15th), which could lead to a squeeze giving the shares a boost.
The shares should have support near $25. As long as that price level holds, I expect FSLR will rocket to $34 … possibly this month.
Equities mentioned in this article: FSLR
Positions held in companies mentioned above: FSLR