Since June, the shares of F5 Networks (NASDAQ: FFIV) have been consolidating near $98 (blue arrow), a level that I first discussed in June. But don't expect the shares to remain below $100 for much longer.
Buyers look ready to take FFIV up to $125 after defending a long-term support zone for two months.
Though $98 support was broken a few times, sellers were unable to gain significant momentum. This is likely because the stock is so cheap near $98.
Also, the decline from $140 had nothing to do with FFIV. That decline had more to do with negative comments made by fellow network competitor Cisco Systems (NASDAQ: CSCO).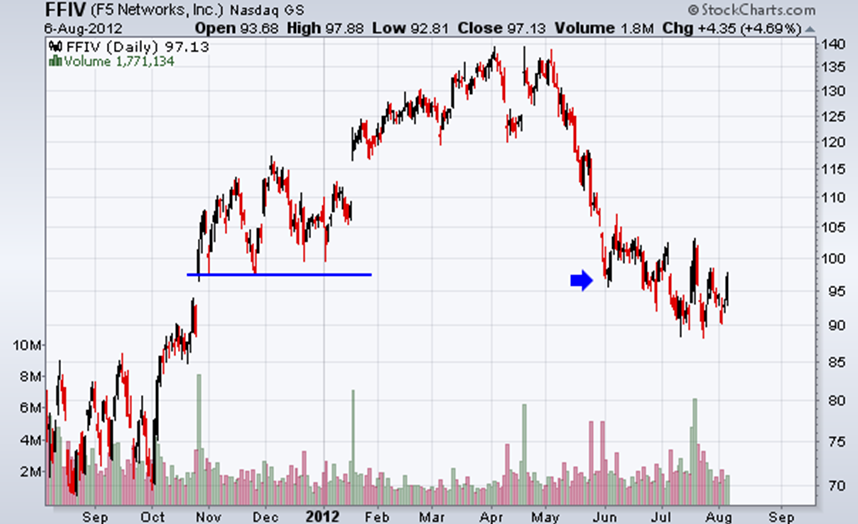 This chart shows the price of FFIV shares along with an important support area for you to monitor.
Cisco is a $200 billion company and a pioneer in the computer networking industry. Its heavyweight status can influence the direction of other IT stocks.
However, FFIV is not your average IT company.
In fact, many credit FFIV's Viprion as the device that dethroned Cisco in the Application Delivery Controller industry.
Though few non-techies understand Application Delivery Controllers, all internet users benefit from their contribution to network infrastructure. This is the technology that makes Facebook (NASDAQ: FB) load faster on an Apple (NASDAQ: AAPL) iPhone.
FFIV is a star in this industry that's only going to shine brighter as wireless devices become more prevalent.
Investors won't have to wait long either. By 2015 Cisco expects the number of connected devices will reach 15 billion – double the world population.
Many analysts believe FFIV is the top company in its industry. But the stock trades at 22 times EPS (10% below the industry average).
This discount won't last long.
FFIV shares carry a fair value of $125, although investors shouldn't rule-out a retest of $140.
Equities mentioned in this article: AAPL, CSCO, FB, FFIV