Amazon.com (NASDAQ: AMZN) is poised to plummet 15% following its earnings announcement on January 29.
Before explaining why I believe AMZN will fall, let me first say that I've been a huge AMZN bull during the past year. In May, I was looking for a rally up to $231. I later increased my target to $252 in July. Finally, I recommended buying AMZN another time in November. This ChartWatch report came out within hours of the base of the rally that took the shares from $220 to $274.
So my 180-degree turn on AMZN is notable, considering my previous stance.
Though I still love Amazon.com as a company, its stock doesn't deserve that same affection. The chart below is showing similarities to October 2011 … days before it tanked 15% after poor earnings. By comparing the blue circles, it's easy to spot those similarities, too.
First, there were the bounces and huge surges following each kiss of the 200-day moving average (black line). The shares rallied 36% in 2011 and by 25% in 2012 before pulling back.
The pullbacks are similar, too. Each decline was contained by the 50-day moving average (orange line), from which the shares went on to notch new highs.
These new highs occurred just days before the earnings release. Moreover, the RSI, Stochastics and MACD (blue arrows) technical indicators are showing the exact same readings, suggesting the shares carry the same vulnerabilities.
In fact, these technical indicators reveal the same divergences, indicating that bullish momentum is waning. RSI and Stochastic peaked at a higher level during the rise off the 200-day moving average. MACD doesn't share that same divergence, however the MACD is currently lower than it was during the price-peak made in October 2012.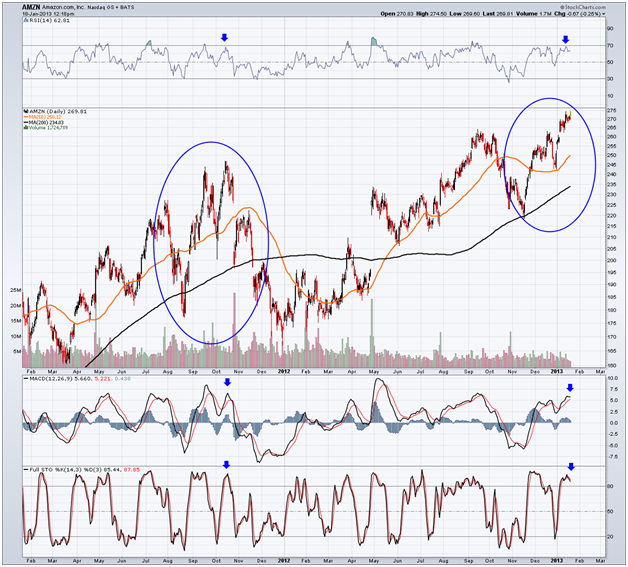 This chart shows the price of AMZN shares along with an important pattern to monitor.
Traders should prepare themselves for an imminent drop. After earnings I'd expect a decline to at least $245, but the stock could even rip to as low as $235.
Equities mentioned in this article: AMZN
Positions held in companies mentioned above: AMZN