Though Amazon.com (NASDAQ: AMZN) has quickly ramped up by 15% in less than a month, the rally may be coming to an end soon.
For the record, I've been extremely optimistic about AMZN in the past (read more about that here and here). By now I believe the stock is likely to flounder in the short term. However, I don't expect that decline to last long. Moreover, this pullback will offer a great opportunity to enter a long position.
In November, ChartWatch noted (blue arrows) that the shares often reverse course near the 200-day moving average (black). At the time, the stock was in freefall, but it quickly changed direction. The 200-day moving average proved to be a great place to buy AMZN as the stock took off.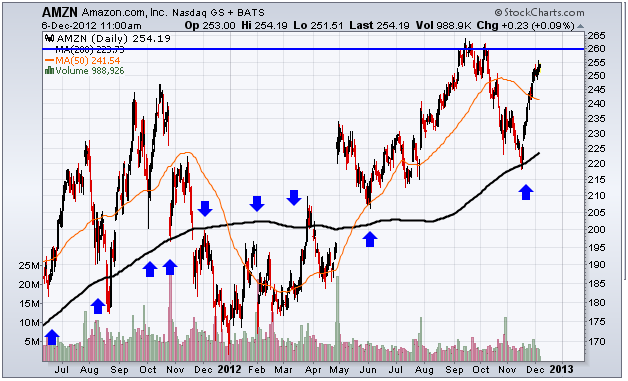 This chart shows the price of AMZN shares along with an important resistance area to monitor.
The shares popped by more than 15% immediately following our research report. AMZN also regained the 50-day moving average (orange) in the process.
I'll be watching the 50-day closely over the next several weeks. The shares are due for a pullback, especially as they approach the $260 resistance level (blue line). Though a decline appears likely, look for the 50-day moving average to provide support around the $240 level. And should buyers defend that line, AMZN is likely going to advance to a level above the recent $265 high.
Over the next few weeks, look for the stock to decline (consolidate) by around 5%. This decline may be a sharp one, as AMZN is a volatile stock. However, a quick decline, particularly one on below-average volume, would provide bullish traders with a fantastic entry price.
Equities mentioned in this article: AMZN
Positions held in companies mentioned above: none