Amazon.com (NASDAQ: AMZN) is in a perfect formation to make a high-probability trade.
ChartWatch has followed AMZN many times in the past. Though my research has primarily been bullish – $231 target in May, $252 target in July and finally a prediction of a huge bounce in November – I offered ChartWatch readers an extremely bearish prediction in January.
I made this forecast ahead of AMZN's January earnings announcement, anticipating about a 15% haircut. I based my belief that AMZN was going to plummet from similar chart patterns in late 2011 (blue arrows and circles), which you'll have to read about in more detail from the January article.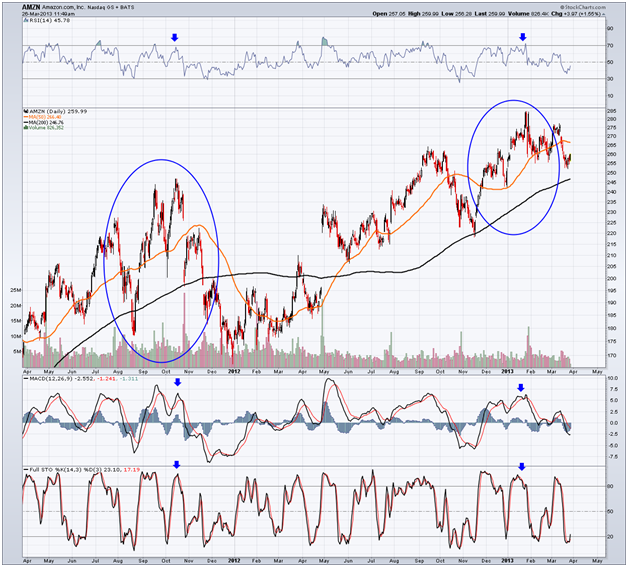 This chart shows the price of AMZN shares along with some important trend lines to monitor.
So I expected AMZN to top in January, much as the shares did 15 months earlier. Though the shares formed a high in January, the ensuing decline has been far less dramatic than I'd hoped for as a short seller. In fact, AMZN has hardly lost the type of ground to bearish traders that I expected.
Despite the lack of bearish momentum, the pattern from 2011 indicates that AMZN will want to touch the 200-day moving average (black line) before ending this current consolidation phase. This is an important bit of information to have because it opens the door to two excellent trades.
First, the 50-day moving average (orange line) should act as a resistance zone before price touches the 200-day moving average. So if the shares were to rally this week and into next without testing the 200-day, traders can initiate short positions at the 50-day.
There is also the possibility that AMZN will begin to slide this week. In that scenario, swing traders should be ready to buy at the 200-day. The chart from 2011 shows that AMZN bounced hard off that trend line before curling over to new lows.
So watch both moving averages closely this month. They should provide you with quick gains by early April.
Equities mentioned in this article: AMZN
Positions held in companies mentioned above: