Amazon.com (NASDAQ: AMZN) is in trouble. We've covered the stock many times in the past, offering both bullish and bearish recommendations. And ChartWatch has provided very accurate analysis, too.
In one of our more recent reports, we highlighted the numerous times AMZN's trend found support at the 200-day moving average (blue arrows below).
This report recommended buying the shares as they retraced back down to the 200-day moving average (black line) in November. That recommendation was good for a 29% gain as AMZN rose to $285 after bouncing off the trend line.
Though AMZN hasn't yet broken its 200-day, I don't expect the trend line to prevent the shares from falling this time for several reasons.
First, the 50-day moving average (orange line) is flat and starting to curl over, suggesting that the near-term trend is bearish. This trend line is at $263.63 right now, and should provide resistance to the stock. There is also strong resistance near $260 (blue line), which should also prevent the shares from rising in the upcoming sessions.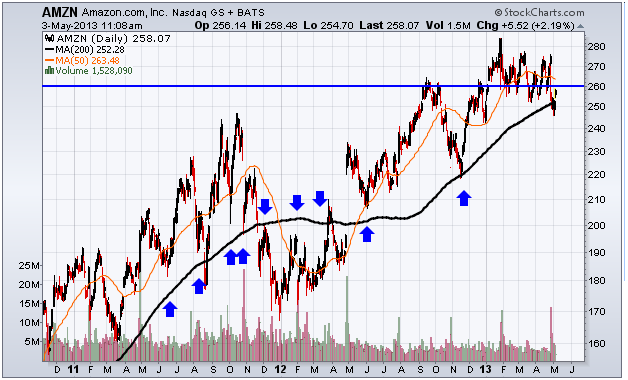 This chart shows the price of AMZN shares along with an important trend line to monitor.
In addition to those areas of selling pressure, AMZN must win investors over again. The stock has been a darling of Wall Street for many years. However, CEO Jeff Bezos and the rest of management failed to impress shareholders in the most recent quarter. AMZN beat analysts' EPS estimates by a wide margin, but failed to exceed sales expectations. There's also commotion about the online sales tax, which could wipe away Amazon.com's big advantage.
Since Amazon.com is not yet posting major earnings, analysts have focused mostly on revenue growth in previous earnings reports. The miss last week caused the shares to plummet 8%, making a near-term recovery unlikely for the stock. While AMZN remains above the 200-day moving average, I expect that sellers will break this trend line soon, taking the shares down to around $222.
Equities mentioned in this article: AMZN
Positions held in companies mentioned above: