Consumer spending, which accounts for 70% of U.S. GDP, rose at a 1.7% annual rate in the second quarter. That's the weakest annual pace since the third quarter of 2011. Remarkably, the poor retail data has not dragged the indices lower, although this may soon change.
I have been an Amazon.com (NASDAQ: AMZN) buyer for a while. However, I fear that the shares have gone too far without a proper correction, setting the stage for a massive downside retreat.
In May, ChartWatch noted that the shares were ready to rally. Later, I upgraded my AMZN target price to $252.
After breaking out of a perfect wedge (blue lines) pattern, AMZN nailed and exceeded the $252 anticipated target. The rally was great, except that the shares did a poor job setting up support zones along the way. AMZN needs a correction … and the next pullback could be fierce.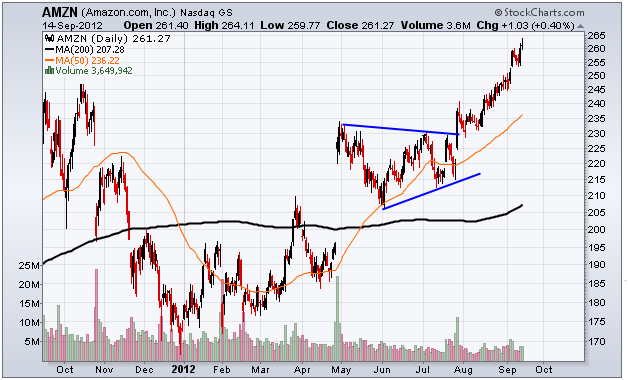 This chart shows the price of AMZN shares along with an important support area for you to monitor.
AMZN's first support zone is 10% lower at $235 – a level where it consolidated during the first half of August. This level also coincides with a rising 50-day moving average (orange line) around $237, laying greater credence to this zone as an area of protection.
It's likely the $235 zone will hold through October. However, the next support area is substantially lower at $210, which coincides with the rising 200-day moving average (in black).
From a fundamental viewpoint, it's hard to argue why AMZN shares are this high. The stock trades at 317 times EPS. Its forward P/E is above 109.
Though analysts slate EPS to expand by 208% next year, it's likely to drop 46% this year. Such volatility in EPS is not uncommon among small-cap stocks. However, AMZN is no small potatoes, clocking in with a market capitalization of more than $117 billion.
Amazon.com is a wonderful business. However, the stock not only appears stretched, it's grossly overvalued at the current price.
New buyers should wait until a decline down to $235 before initiating a new position. Alternatively, sellers of the stock can use the same price as their near-term target.
Equities mentioned in this article: AMZN.