After months of waiting, Chipotle Mexican Grill (NYSE: CMG) finally looks ready to rally.
In May, I mentioned that CMG didn't look too tasty, although that had nothing to do with fast food. At the time, the shares were not in a trading pattern that suggested more upside was coming.
However, a recent 7% pullback from $420 put the shares into "buy" territory. A reliable chart pattern also suggests that a rally could soon develop.
Chipotle stock should find support at the rising channel line (blue line) and at the 200-day moving average (black line). Over the past year and a half, the channel support line has kept the shares moving higher.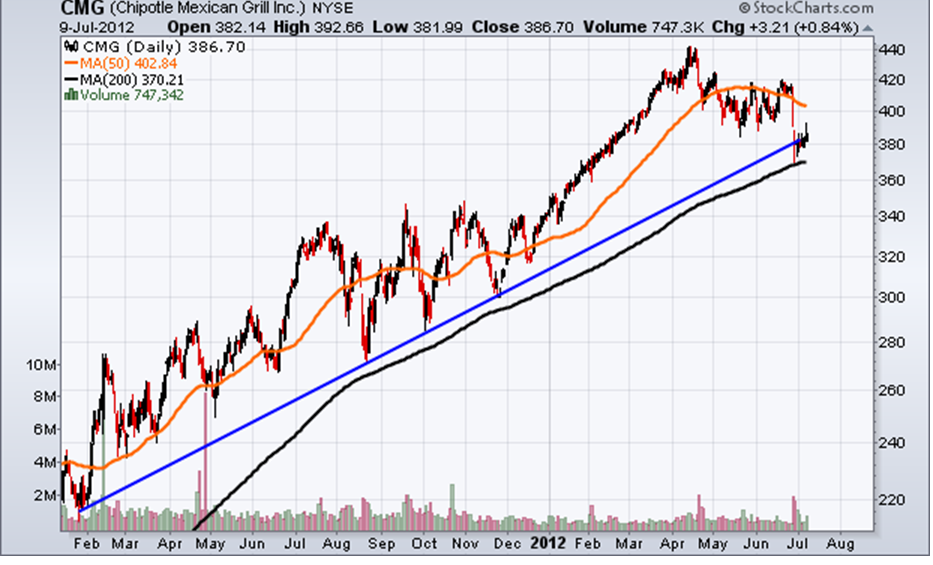 This chart shows the price of CMG shares along with an important support area for you to monitor
Moreover, the 200-day moving average has yet to be touched – much less breached – during that time. Institutions often buy stocks or add to current open positions at the 200-day moving average. I expect institutional investors to buy CMG as the shares approach that area.
I do have one warning for any eager bulls. The 50-day moving average (orange line) appears to be resistance. In the 18-month run, CMG's 50-day moving average rarely acted as resistance. The recent selling pressure around this area suggests that sellers could hold the stock back for the next few weeks.
Though I expressed caution in May, the shares deserve a closer look after their recent retreat. While the stock will have to fight through a few resistance zones to begin another bullish trend, buyers haven't had a better chance to buy CMG this year.
The long-term trend remains bullish and the shares remain above two potent support areas. Unless the bears can eviscerate the rising channel support line and the 200-day moving average, investors should expect CMG shares to continue higher.
Equities mentioned in this article: CMG