Cisco Systems (NASDAQ: CSCO) may have finally bottomed.
Actually, the shares bottomed more than a year ago at $12.90. But the stock has been trapped between that low and $20.81 ever since. In fact, it's stayed below $22 since late 2010.
However, a recent jump higher could be the start of a major rally that could initially take the stock up to $25.
The $17 zone, as depicted by a blue line, has been an important level this year, acting as both resistance and support. Accordingly, it's been the price where short-term rallies tended to start or fizzle.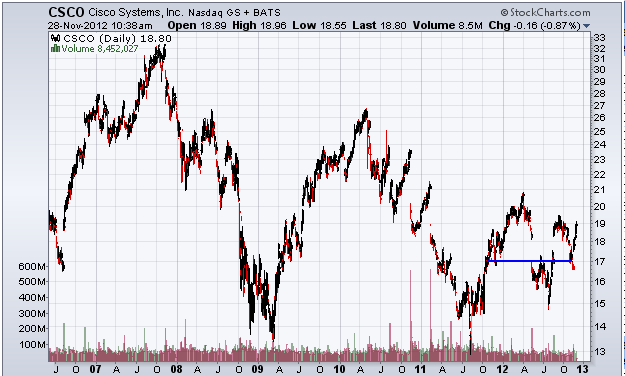 This chart shows the price of CSCO shares along with an important support area to monitor.

Because Cisco recently established support at $17, the stock should continue to rise until that level is breached to the downside. The shares have already climbed higher by more than 11% since finding support at $17, which is a move I didn't expect earlier this year.
Normally, the strong resistance near $19 and $20.50 would keep me from buying CSCO. However, the 11% burst higher in November appeared after a positive earnings report. Rallies grounded in positive financial data are often strong enough to plow through resistance zones.
Moreover, the stock is cheap, trading at less than 10 times 2013 EPS guidance. The shares yield around 3%, too. Value investors and dividend fanatics should flock to CSCO, supporting higher prices.
The $19 resistance level should crack and the stock should burst quickly to $21. If $21 resistance breaks amid high volume, expect the shares to rally by another 19% to the $25 level.
Equities mentioned in this article: CSCO
Positions held in companies mentioned above: CSCO