Facebook (NASDAQ: FB) has fooled many investors this fall …
But not ChartWatch readers.
In fact, I've been bullish on the stock for several months. In October, ChartWatch noted that Facebook bottomed. Later in November, I wrote a similarly positive stock report.
The reason for my recent optimism (I hadn't always been bullish; read more about that here) was the strong support near the $19 zone. Investors were clearly supporting the shares at that level (blue arrows below).
A resistance area was easy to spot on the chart, too (blue line). Sellers had been protecting that price since July.
However, I noted that there was more to Facebook's story than the price movement. After a great earnings announcement in October, I penned, "The positive earnings and guidance news launched FB to $24 overnight. In fact, I believe the fundamentals are robust enough to bring the stock back up to $27."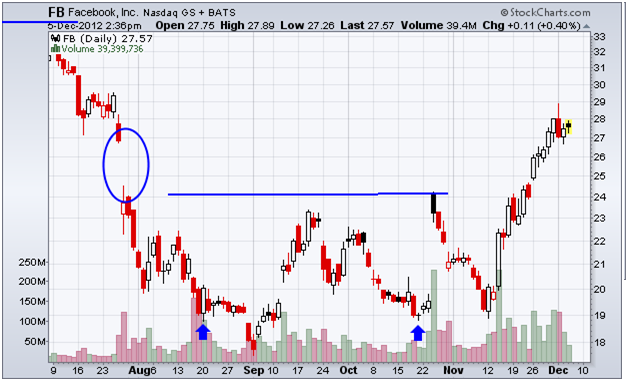 This chart shows the price of FB shares along with an important resistance area to monitor.

The stock has indeed risen to $27, which also happens to be the spot where it tanked in July (blue circle). Accordingly, this is likely to become an area of intermediate-term selling pressure.
Though I vehemently believe FB bottomed in September, the stock's upside is likely limited to $30 this year, perhaps even into February. The selling pressure is simply too strong below $30 for the shares to rise above that level without a positive catalyst such as an analyst upgrade or positive earnings data.
How I'm trading FB …
I continue to own Facebook stock. However, I am selling calls against my position.
I'm selling calls above $27. This protects me from a modest decline in the stock. It also locks in a substantial gain from my entry of $19.00 should those options be "called away." That's fine, because I am comfortable selling my FB stake here. The near-term upside is that limited.
However, I do believe the stock will rise through 2013. Therefore, I'll be looking to add the shares near $24.50. Ultimately, I expect to be able to sell the position above $33.
Equities mentioned in this article: FB
Positions held in companies mentioned above: FB
Don't Miss: ChartWatch: The Most Interesting Chart I've Ever Seen