For months, I've turned on spotlights, pounded the table and beat the drum, attempting to make Google (NASDAQ: GOOG) shares stand out.
Admittedly, I likely wasn't much of a direct influence on the stock. However, anyone that heeded my advice to pick up GOOG near this support area, before this big move or prior to this breakout made a fortune in September.
Next stop, $1,000?
Google is a great company. In fact, it's one of my favorites and I hold a large portion of my retirement in GOOG.
Analysts like it too. Of the 42 analysts covering the stock, 35 have issued "buy" ratings. The highest price target increased to $910.
Despite the big move in September, the shares are still cheap. The 2013 EPS estimate is $49.23, resulting in a P/E of 15.
Though Google is a great company and its stock is cheap, I'd like to see the shares retreat a bit before buying it again.
In fact, I advised readers of my premiere Top Stock Insights investment service to sell GOOG last month.
My advice came a bit early because the stock ran another $55 higher. However, the feud with Apple (NASDAQ: AAPL) and less-than-stellar price history during earnings season were enough reason to lock in a 32.5% gain and wait for the shares to move lower.
This was the second 30%-plus gain readers recorded. The first came in a six-month span during 2010.
Though Google may move higher in the near term, we're going to sit back and wait for a pullback below $700. Eventually, GOOG should hit $1,000.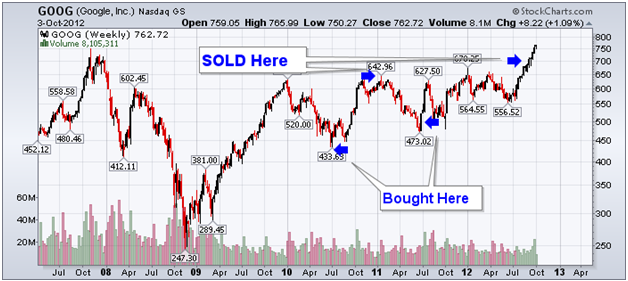 This chart shows the price of GOOG shares along with two profitable transactions taken by Top Stock Insights subscribers.

Equities mentioned in this article: GOOG, AAPL