After more than a year of waiting, Google (NASDAQ: GOOG) appears ready to break out past $630 resistance.
As I first mentioned in an April article, $630 (blue line) has proved to be a thorn in Google's side since December 2009. That's right, for nearly three years GOOG shares were subdued by $630 resistance.
Though the bears persistently dragged GOOG lower each time the stock neared $630, buyers rarely let the stock slip below $500. And in recent months, the bulls built support for Google near $565 (blue arrows).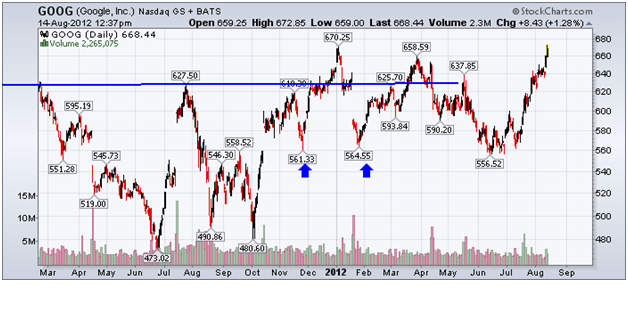 I own GOOG shares in my retirement account because the company dominates the online advertising industry, generating incredible amounts of money from paid search. They have also shown a willingness to expand into other industries such as hardware, video, and even space travel.
This is a great company and the rally that's been in the making for years may have started. Google has already passed the first challenge by moving above $630. If the rally has truly begun, the shares should bounce to $700 as early as this month.
In addition to the rally up to $700, buyers should provide support near $630 (the once formidable resistance level).
A move higher makes sense on a valuation basis, too. Analysts following Google stock expect it to earn $49.36 per share in 2013.
If the EPS estimate is accurate, the shares will carry a 14 P/E ratio upon reaching $700. A 14 P/E ratio is cheap for a company that consistently increases earnings by more than 16%.
Forget about AAPL reaching $1,000, Google stock looks ready to hit the $1,000 mark first.