H&E Equipment Services (NASDAQ: HEES) should be on its way to new highs. This tiny industrial company is firing on all cylinders, and the stock looks great, too.
HEES offers services to heavy construction and other major industrial equipment businesses. Though operations are limited to the U.S., company offices are spread across the country. This geographical exposure is noteworthy because it allows HEES to allocate its equipment between industrial and commercial construction.
For example, commercial building was down a few years ago. In fact, it still hasn't fully recovered from the 2007 bust. So the company's commercial construction business slowed. However, due to offices in Texas and the Bakken, their industrial construction business was able to pick up the slack. Demand from petrochemical and oil industries continues to be strong, and now accounts for more than half of total revenues.
Analysts are optimistic going forward. Upcoming data should show a strong rebound in EPS from a year ago. Analysts expect 2012 earnings to increase to $1.02 from $0.26 in 2011. Growth should continue in 2013, with the consensus calling for $1.23 EPS. However, these numbers are highly subject to revision following the fourth-quarter financial report that is due out next Monday.
The stock's current valuation is reasonable. If analysts are remotely close with their estimates, the shares trade at 15.5 times the 2013 EPS. This multiple is on par with the industry, but slightly lower than I'd expect considering the strong rebound from EPS.
So with strong financial growth and a sensible valuation, the chart should be equally as strong … and it is.
The shares began to trade in a strong upward channel (blue lines) in August. This trading pattern guided the stock higher from $10 to $21.
More importantly, this positive trend remains intact. In fact, now could be another great opportunity to buy the shares before another new rally high. Along with finding support within the channel (bottom blue line), the shares also have the support of the 50-day moving average (orange line).
The 50-day moving average typically indicates where big investors often make purchases. So it's a great place to take a position because you should be buying ahead of a rally spurred by big money buying the stock. Notice in the chart below how well the price stabilized in October and December at the 50-day.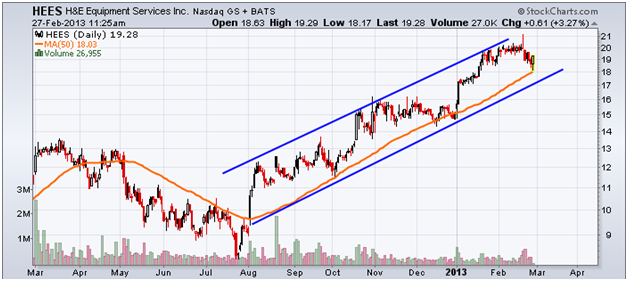 This chart shows the price of HEES shares along with important trend lines to monitor.
HEES is a strong buy so long as the shares stay above the 50-day and within the bullish channel.
Equities mentioned in this article: HEES
Positions held in companies mentioned above: